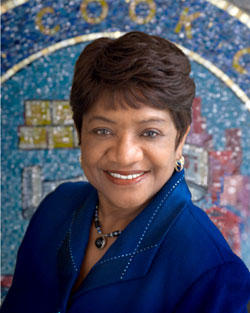 Earlean Collins, who represents Austin on the Cook County Board, is refusing to take 10 days off without pay – an action she and the 16 other commissioners unanimously agreed to when they passed the 2011 budget.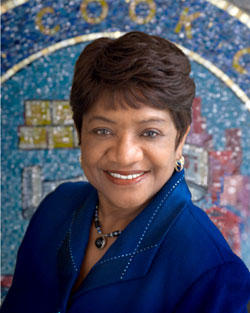 "I wrote a letter, saying 'I do not wish to have my salary cut,'" The Chicago Sun-Times reported Collins said during Tuesday's regular board meeting.
Collins said her office sacrificed a lot when commissioners OKed another budget measure this year that gave each commissioner the same district office budget of $360,000.
In 2010, Collins had the second highest district office budget at $421,489, according to the Sun-Times.
For one Collins staffer, that meant a $15,000 pay cut before the 10 days without pay, Collins said, according to Sun-Times reporter Lisa Donovan.
"When this body goes on vacation, my staff and I hit the streets," Collins said. "Every single Saturday and Sunday we are out there with the people because that's where they are."
"It's unfair where they can get no overtime — to ask them to take $15,000, $10,000, $5,000 cuts and take 10 more days out of their pay. That is not equitable, and I will not sit by and take my cut because I know this board nor the president can cut my salary," she said.
Collins, like the other commissioners, earns $85,000 annually. She also collects an additional $75,000 a year for her Illinois Senate pension, the Sun-Times reported.
But Collins said something very different earlier this year, according to the Sun-Times.
"Can I give up 10 days? Yes. Absolutely," Collins said Feb. 24, just two days before the final budget was OKed.
Five commissioners in all said this week they would not take the same furlough days that most of the county's 23,000-some employees are taking. But by the end of the week, Fox Chicago was reporting that two of those commissioners had changed their minds.
Commissioners Robert Steele and Joan Murphy informed the office of Board President Toni Preckwinkle on Thursday that they would take the furlough days after all. And on Friday, Deborah Sims decided she, too, would forgo the pay, the Sun-Times reported.
Collins and William Beavers are still fighting the cuts, saying it's against Illinois law to reduce an elected official's salary during a term. Commissioners serve four-year terms; Collins was re-elected in fall 2010.
On Thursday, Collins dismissed two of her colleagues who said the commissioners refusing to take their furlough should see their office budgets reduced.
"They can do what they want, it doesn't matter. It won't affect me. I know the law," she told the Sun-Times.