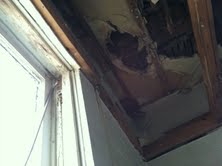 Amanda Majors keeps the door to her first-floor bathroom shut. Not only does it look bad – its ceiling a gaping hole of broken and rotten 2-by-4's – but it's unsafe, she says, letting in freezing air in the winter and rain the rest of the year.
"I can't have holidays, visitors or even enjoy a home-cooked meal because of the conditions of my roof and walls," said Majors, sitting in her home on the 4000 block of West Lexington Street. "It's a living nightmare."
The 71-year-old widow has lived this way for five years as she's gone back and forth with the entity she says is to blame: the city of Chicago.
Majors claims the damage was caused by contractors who were hired to replace her roof for free through a city housing assistance program.
But the city's Department of Housing and Economic Development says that's just not true, and point to a thick file on Majors' home repairs that state her roof has already been replaced twice at taxpayer expense.
In 2004, Majors applied for a new roof through the city's Emergency Housing Assistance Program, a fund designed to help "very low-income" residents with grants of $5,000 to $35,000 for "essential" repairs to their homes, such as heating fixes and roof and porch replacements.
Her application was approved, and in August 2004, the city paid for a southwest suburban-based construction company to put a new roof on her century-old home.
That much – and only that much – Majors and the city agree on.
According to Majors, it was shortly thereafter that the dripping started in her bathroom. She says she complained, and the city sent the same contractors to patch the job with a new bathroom ceiling.
But it was putting a Band-Aid on a wound, as she tells it, and before long the water had seeped through again.
"Every time they come out, they make it seem as if I'm the problem," Majors said. "I've been here 40 years … There had never been any leakage prior to (the construction company) coming to my home."
So she started making phone calls and writing letters – to then-Mayor Richard Daley, copying then-Ald. Sharon Dixon (24th) and to the city's community development commissioners.
"Dear Mayor," began one July 2010 letter. "When I applied for the Department of Housing (EHAP) roofing program in 2006, I would never dreamed four years later I would be fighting to have my roof repaired after (a) contractor that the city used to repair my roof destroyed my life."
She says she got no response.
City housing officials, however, say Majors' problems have nothing to do with the roof they gave her.
Susan Massel, a spokeswoman for the Department of Housing and Community Development, says Majors complained about a leaky bathroom after her new roof was installed in August 2004. So the city installed "an entirely new roof … that the city and the taxpayers paid for" the following year, she said.
Majors continued to report leaking, Massel said, so the city sent more contractors – making "many, many visits between 2005 and 2010." They determined the roof was not the cause of the leak, she said.
"The city has been very diligent and very responsive," Massel said. "We're never happy when we leave and someone is unhappy, but we believe we have done everything we can in this instance."
Elce Redmond, an organizer for the South Austin Coalition Community Council, a social action group, says Majors has been victimized by poor workmanship.
"That work obviously was shoddy work," Redmond said today from Majors' home. "I think the city is hiding behind the fact that they sometimes have contractors that don't do good work."
Redmond said he hopes bringing attention to Majors' situation will cause more homeowners who have experienced similar problems to come forward.