Chicago's tax-increment financing program is designed to eradicate blight, create jobs and promote economic development in neighborhoods that need it most.
But TIF –  which diverts property tax dollars to private developers in an effort to spur growth – appears to be doing little to help the residents of Austin.
Of the 184 private-sector TIF projects authorized in Chicago since 2000, just four were for Austin — one of the city's more economically distressed neighborhoods and its most-populated community area.
A searchable map partner site ChicagoTalks published earlier this year shows more than half of the nearly 200 private-sector TIF projects approved citywide between Jan. 1, 2000, and July 30, 2010, are clustered in or near the Loop.
Few if any projects can be found in many of Chicago's most blighted communities on the West and South Sides. And many of those projects haven't been completed – if started at all.
That's true in Austin, where only one of the four projects approved over the last decade has met the legal terms in agreements signed with city development officials. (See related story here).
And that one project has created few jobs for residents of the distressed neighborhood, a four-month investigation by AustinTalks has found.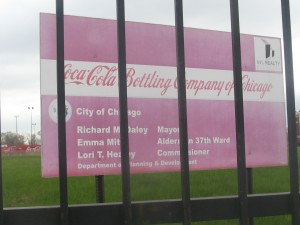 The project — a Coca-Cola distribution facility at 1401 N. Cicero Ave. in the 37th Ward — employed just 28 people who live in or near Austin. That's 10 percent of  the 244 total people employed in 2009, according to job-monitoring documents the company submitted to the Chicago Housing and Economic Development Department, which oversees the TIF program.
The documents included those 244 worker's names and zip codes. Twenty-five jobs came from three zip codes — 60639, 60651 and 60707 — that include Austin as well as other Chicago neighborhoods and Elmwood Park. Three jobs came from 60644, located solely in Austin.
The most current job-monitoring documents obtained from the city are for 2010 and do not include zip codes, so it's impossible to determine how many workers now come from the Austin area; Coca-Cola declined to provide this information to AustinTalks.
The developer is not required to provide employee zip codes, said Molly Sullivan, director of community outreach and communications for the city's  housing and economic development agency.
According to the 2009 documents — which AustinTalks obtained using the Illinois Freedom of Information Act — about 103 jobs came from other Chicago neighborhoods, including Albany Park, Belmont Cragin, North and South Lawndale, and Roseland.
Under the terms of the agreement the developer signed with the city in 2006, the remaining jobs were transferred from other Coca-Cola facilities in the surrounding suburbs and states, the farthest being Saint Paul, Minn., and Salem, Wis.
Some TIF critics and West Side residents wonder whether Chicago's TIF program — which began in the 1980s — has worked for Austin.
David Merriman, an economics professor and associate director of the University of Illinois' Institute of Government & Public Affairs, said the fact that there has been little private development in Austin over the last 10 years is not "terribly surprising, because the economy is in bad shape and private investment is down."
At the same time, the lack of Austin TIF projects is distressing, he said.
"A neighborhood that truly needs investment is not getting it," Merriman said.
Austin resident Dwayne Truss, a member of the South Austin Coalition Community Council, a non-profit group that advocates for low-income housing and helps residents pay their utility bills, said the Coca-Cola project is a prime example of how low-income neighborhoods in TIF districts don't get what they deserve.
Truss says property tax dollars are wrongly diverted from city services, such as fire and police protection, schools and parks, for the benefit of big corporations. He calls it "legalized corruption."
"The TIF program is a failure for poor communities and a bonanza for big businesses," Truss said. "Economic development hasn't yielded any significant jobs — at least on the West Side."
Collin Hitt, director of education policy at the conservative Illinois Policy Institute, said Chicago's TIF program should be eliminated altogether – or at least made more modest and accountable.
According to Hitt, $875 million since 2008 has been diverted citywide from Chicago's schools and local services because of TIF — and that's "simply too much no matter what the shape of the program."
"That is not part of some niche project to improve neighborhoods," Hitt said. "It's a massive diversion of revenue."
Instead of paying companies to relocate their corporate headquarters and otherwise subsidize big businesses, Truss said TIF money should be used for job training in areas with high unemployment rates — areas like Austin.
Austin's unemployment rate hit nearly 21 percent — the seventh-highest in the nation compared to other similar geographic regions — according to a Chicago Reporter analysis of 2008 U.S. Census data.
Austin's unemployment is still much higher than the city's 8.7 rate recorded earlier this spring, as well as the Downtown area — which has had many more TIF projects than Austin, according a four-month investigation by ChicagoTalks.
Of the $1.2 billion in TIF subsidies promised for projects citywide since 2000, about $22 million was allocated for Austin. But as of late June, only $1.4 million has been paid out – most of it for the Coca-Cola distribution center.
Why TIF money?
In 2006, Coca-Cola was searching for a new home for its distribution center due to the expansion of Benito Juarez Community Academy next to its facility at 1440 W. Cermak Road in Pilsen.
The school wanted Coca-Cola's property, and according to a February 2006 Chicago Community Development Commission staff report, "the mayor's office main concern was to keep the quality jobs that Coca-Cola provides in the city."
As a result, the city authorized paying more than $3.22 million to the project's developers, MLRP Merlin LLC and Coca-Cola Enterprises, as an incentive to relocate the distribution facility to Austin, which is in the Northwest Industrial Corridor TIF District.
The site chosen once housed the distribution facility of Helene Curtis Industries, a cosmetics and beauty parlor firm no longer in operation. Unilever, the multinational conglomerate that makes an array of products, including Dove deodorant and Lipton teas, bought out Helene Curtis in 1996 and left the Austin property in 2003, eliminating 144 jobs, according to the Chicago Sun-Times.
The project included renovating 208,983 square feet of the existing building, improving truck stall access, adding parking and making other structural changes, according to the project's redevelopment agreement the city is required to post online.
Coca-Cola committed to the "creation and/or retention" of a minimum of 240 jobs, according to the Community Development Commission's report. The Cermak facility's 120 employees were to be relocated to the new distribution center. The remaining 120 jobs were to be created by moving employees from other Coca-Cola facilities in the suburbs to the Austin site, according to the report.
Morris Smith, Coca-Cola's public affairs and community relations manager, said he did not know about the minimum job requirement and that closer to 200 employees were transferred from the Pilsen location, while 150 jobs were transferred from other facilities in Chicago.
Currently, the Austin location has 325 employees, Smith said. Since opening, the distribution facility has had 20 employees from the 60644 Austin zip code, Smith said.
The project's certificate of completion — the city-issued document that certifies that all the requirements in a redevelopment agreement have been met — was issued in 2007.
The certificate triggers payment of the city's commitment to 15 annual installments of $215,000 to the developer. The installments are due each Feb. 1, according to city spokeswoman Sullivan. As of late June, $860,000 — or four of the installments — has been paid to the developer, she said.
The Housing and Economic Development Department declined to comment further on its payment process after a certificate of completion is issued; that includes refusing to reveal who at the city monitors the developer to make sure it continues to comply with the redevelopment agreement.
Ald. Emma Mitts (37th) declined to be interviewed about the facility, which is located in her ward.
But her staff responded to some questions by e-mail, touting the 1,200 jobs she says she has brought to the ward since 2006 using TIF money and other financial incentives. The e-mail cited last year's opening of an Aldi grocery store at 1440 N. Kostner Ave. and the recent opening of discount apparel Forman Mills at 1450 N. Cicero Ave.
Mitts' staff declined to answer how many residents of the 37th Ward work those 1,200 jobs.
Coca-Cola's impact on the neighborhood
The Coca-Cola facility — surrounded by a black, metal fence and security entrance — is located just south of the new Forman Mills clothing store. Other retailers in the immediate area include Food 4 Less, Skechers and Game Stop.
Coca-Cola's Smith — who lived in Austin as a child until he graduated from college and whose family still resides on the West Side — said the company's distribution facility has "positively impacted" the neighborhood by providing jobs and other services to the community.
Due to the company's growth, retirements, promotions and transfers, the facility often has jobs to fill, he said. Coca-Cola's "talent acquisition department"— responsible for recruiting employees — works with Ald. Mitts to employ Austin residents, Smith said.
"We are always trying to hire people from the Austin community."
Smith could not provide a more current number of Austin residents employed at the facility, because "it's an ongoing number."
Coca-Cola did not respond to requests seeking an interview with any of the 28 Austin-area employees documented as working at the facility in 2009.
Ed Dunn, a West Side resident and founder of the African-American business and entrepreneurial blog Dream and Hustle, said it's not right that most of the project's jobs are being brought in from elsewhere.
"They are probably driving into the West Side," he said. "Was Coke a good use of TIF money? No, not at all."
But U of I's Merriman said he's a skeptic of public policy that restricts private developers to hiring workers from certain neighborhoods. Job skills vary, and a developer may have to look outside its immediate area to find employees who fit its needs, Merriman said.
"I do not think that the fact that people are commuting from other neighborhoods is an indictment of the city's role in the (TIF) process," Merriman said.
Although it's not clear from the job-monitoring documents if those 28 jobs filled by Austin residents in 2009 already existed at the Pilsen location or if they were created after the move, Tom Tresser said the $3.22 million TIF subsidy works out to be about $115,000 per Austin job.
Tresser, a 2010 Green Party candidate for Cook County Board president, said there's little evidence local employment was actually improved — and those few jobs came at a big cost. More than $100,000 per job is still "a very large number" for each job created or retained in Austin.
"It just can't be defended," he said.
Virgil Crawford, director of community organizing for the Westside Health Authority, calls the deal that brought Coca-Cola to Austin "insulting" because it came up out of a grassroots movement in Pilsen.
Parents in Pilsen wanted a new school for their children, and because of their relentlessness, "the deal was struck for (Coca-Cola) to get the Helene Curtis property with some TIF funding and make way so parents could have their school," Crawford said.
"It was good for parents in Pilsen," he said.
"But us here in Austin, we got the short end of the stick. We lost a prime piece of property to a private developer."
This story is part of the Local Reporting Initiative, supported in part by The Chicago Community Trust.