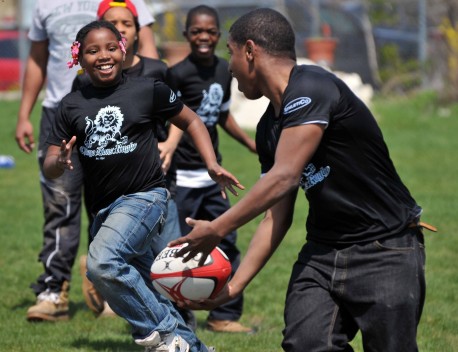 When Tarayven Polk was told last year she would either have to repeat 2nd grade or attend summer school, the 9-year-old quickly chose the latter.
She spent last summer diligently studying, and Polk, now 10, made the honor roll and sailed through 3rd grade. She credits her successful turnaround to a little help from her friends at the South Austin-based nonprofit Kidz Express, which offers after-school and summer programs for the community's most at-risk and hardest to reach youth and their families.
It is there, in a nondescript-looking building at 342 S. Laramie Ave., that the lives of children such as Polk are being changed, one kid at a time.
"I come here a lot; they help me do better in school," said Polk, who has attended the program since she was 7. "My dad lets me come here because they help me with my homework and make sure I get done with it.
"I like it," said Polk, who enjoys playing games such as basketball and musical chairs, and conducting experiments, too. "It's cool."
For Devon Cook, 16, Polk's story is a familiar one. The 11th grader at Prosser Career Academy is also an honor roll student, but that wasn't always the case. Cook came to Kidz Express at age 8, his report card filled with Ds and Fs.
Today, he not only is an excellent student and bookworm, but he also mentors the organization's younger kids.
"This gives kids a great time like I had a great time," said Cook, who attributes his good grades to Kidz Express. "They made sure I knew right and wrong and not to go down that path.
"It's a great program," said Cook. "Lots of kids have seen their lives changed."
Changing lives has been a goal for Doug Low, executive director and vice president of development for Kidz Express. Low has created a safe haven filled with what he calls "controlled chaos," as well as laughter, love and care – needs many of the young people are not getting at home.
"They feel completely invisible in their lives," said Low, who has an MBA from Northwestern University. "It's so important for them to have a sense of identity, a sense of belonging.
"What you don't see in these kids is laughter and smiles," said Low. "They live in fear. We give them moments they can be safe."
Kidz Express' after-school/summer programs address issues for four separate age groups: 5 to 6, 7 to 10, 11 to 14 and 15-plus (next year, Low will restart a 15- to 21-year-olds program). Besides academic support/tutoring and mentoring, Kidz Express supplies about 225 dinners a week for the kids, as well as healthy snacks, organized activities, supervised free time and more.
Saturday GED classes – which Low says are the only West Side GED programs he knows of – are offered through a partnership with Literacy Chicago, in addition to affordable housing information and parental support classes. Kidz Express also has ties with Christ the King High School to enhance educational opportunities, and acts as a partner with the juvenile justice system for kids who've had an initial contact with that system.
"We're this neighborhood's village," said Low, who has filled the place with photos of the kids, looking happy and playful. "We look at it from a very realistic perspective. We want them to make better decisions in life."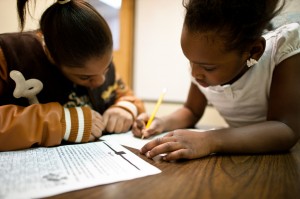 Low strives to "capture" kids starting at the age of 5, and place them in a "pipeline" of progress and self-sufficiency as they grow to adulthood.
Kids are closely tracked and monitored, and Low boasts less than a 3 percent teen pregnancy rate throughout the last decade, while the community rate is 24 to 40 percent, he said. He said he keeps in touch with all participants one way or another.
"I have sources throughout the entire community who tell me what the kids are doing," he said.
About 95 percent of the kids come from a six- to eight-block targeted area, with very few coming from outside although they would be accepted, Low said. About 50 kids come each day, with about 167 coming in total this year.
He notes that 57 young participants have been involved for more than five years.
Four of those young people are cousins Toya Campbell, 13; MeMe Branch, 14; Elaine Florence, 15; and Rochell Campbell, 14. All four teens have attended since they were about 5.
Rochell likes that violence is frowned upon at Kidz Express. She loves that they "build you up higher," with self-esteem, better grades, and "everything in life," and "treat you like your own." She also enjoys seeing the little kids grow up.
But one of the things Rochell really takes to heart is that her picture is hanging on the Kidz Express wall. "It's the only baby picture I got," she said. "If it wasn't for them, I wouldn't have any baby pictures."
With 90 percent of the program's families receiving Link cards and 100 percent qualifying for the federally funded lunch program, Low works hard to secure funding for the free program, which originally began as a once-a-week effort in the basement of the Good Shepherd Lutheran Church in Oak Park.
Currently, he supplies 45 to 48 weeks of free programming annually, also employing 18 people from the community between ages 14 and 21 to help run the program. His annual operating budget is $160,000, with a 2012 goal of $200,000, which comes from a variety of sources, including foundations, private donations, corporations and members of the Kidz Express' board of directors.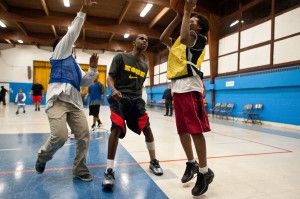 Low said he's developing an affordable program modeled after the Harlem Children's Zone in New York City to replicate in other high crimes areas of Chicago filled with at-risk youth, such as Englewood and Lawndale.
"These kids are just trying to survive," said Low. "You have to fit in. If you don't, you can get killed.
"In this community, kids are labeled so easily as dumb and failures," said Low. "It's just a question of giving them the right tools so they can succeed."
For Polk, being given those tools has made all the difference. Come August, she'll hit the halls of May Community Academy as a savvy and smart 4th grader.
"I tell other kids it helps me do better in school," said Polk. "I tell them, 'Come here so they can help you with your homework.' It's a good place to come."