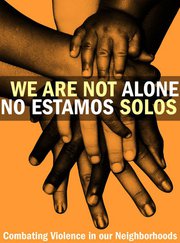 If you drive or walk around the West Side on Wednesday or Thursday night in June, you'll see people standing on corners, united in prayer and hope that there will be less violence this summer.
This effort – organized by the Chicago Police Department, faith-based community and block clubs in the 11th and 15h Districts – builds on the "100 Blocks & 100 Churches" initiative from last summer, which brought hundreds of people over five Wednesdays in June to street corners throughout Austin. (Here's another AustinTalks story from last summer.)
Every Thursday this month – starting tonight from 6 to 7 p.m. – 11th District participants will meet on various street corners to pray, ending the month with a Unity Chain June 29 made up of participants from the 11th and 15th Police Districts. The 15th District will meet every Wednesday night, starting June 8.
The goal is simple: Lower the crime rate – which typically rises in the hot, summer months – by showing residents care about their neighborhood.
"We want to see crime go down; it works," said 11th District community organizer Christine Perez, who helped lead last summer's efforts in the 15th District.
Seventy-eight churches had confirmed participation as of  May 21, when a prayer breakfast was held in the 11th District, said Rev. Edwin J. Perry Sr. He hopes that number will grow to 100.
Dorothy Lewis, a member of Tree of Life Outreach Ministries, says she didn't know about last June's program but thinks even more people will participate this year.
"I just believe this time, there's gonna be a big difference," Lewis said.
Acting Police Chief Garry McCarthy spoke at the breakfast, asking the group for its prayers as he begins his job. "The time is now, the place is here — but I need your help."
"We cannot arrest our way out of this problem," he said, adding he plans to "reduce crime with the moral cooperation and authority of the community."
CAPS director Ronald Holt said praying on corners makes a difference. Drug dealers and gangbangers think about their next move when they see people coming together on neighborhood streets, he said.
Holt, whose only son was gunned down while riding a bus home from school, ended his remarks by saying, "Each one, reach one, teach one, preach one."
The 15th District will hold its 100 Blocks & 100 Churches prayer breakfast at Friendship Baptist Church, 5200 W. Jackson Blvd., on Friday, June 3 from 10 a.m. to noon.
For more information about how to get involved, call 312-746-9841.