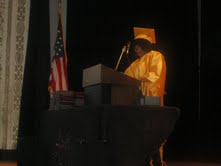 It was a moment Cherokee Lyons won't soon forget – and one she wasn't sure would come.
Lyons was one of nearly 70 people awarded their high school diploma earlier this year through Austin Career Education Center (ACEC), an alternative high school at 5352 W. Chicago Ave.
"I was happy and sad at my graduation," the 18-year-old Lyons said. "I honestly felt like I would not make it out of high school."
Lyons had begun high school at Manley Career Academy but had to leave because she missed too many classes.
"I was hospitalized because I had been suicidal," Lyons said. "I had fallen into a deep depression because my father had died when I was younger. That was really hard on me and made it hard to go to school and focus."
Lyons completed her last two semesters of ACEC. Now, just two months after attending her graduation at Austin Town Hall, Lyons goes to Malcolm X.
"Me graduating from ACEC shows that I am successful, and I am on a mission to reach my goals despite my obstacles," she said.
Students who enroll at ACEC are required to come in with at least 10 credits and be at least 17. Students enroll at ACEC by choice, not because they have to, school officials say.
The Jan. 28th graduation was one of the two ceremonies ACEC hosts each year. To participate, graduates must earn 20 credits and maintain at least a 2.5 grade point average at ACEC. Students also must complete 40 hours of community service, and be able to show a portfolio of work and complete an exit interview.  The portfolio is designed to help them with career and post-high school planning.
"For many years, we were dominantly female," said Anne Gottlieb, assistant director at ACEC. "However, we are slowly becoming half and half where more males are enrolling and graduating here at ACEC."
ACEC opened its doors over 30 years ago, with the goal of educating students not able to succeed in traditional high schools. But school officials don't want students' education to stop with their diploma.
"We don't want the students to drop out," said Gottlieb. "It's more of a community here at ACEC, and we take the time to know our students, handle their lives and help them realize that a high school diploma is not exactly the end."
It can be a challenge in the beginning for the school's eight teachers to help students.
"Students may come in with skepticism and an idea that it's not a regular school," said Gottlieb. "Once they see that the curriculum is relative to their needs, they become more receptive."
Besides the diplomas, some of the graduates were honored with a "student of distinction" award, as well as departmental and academic awards.