Chicago-area job seekers and residents enrolled in federally funded community programs helping them find employment came together Thursday to oppose the U.S. House of Representatives' recent vote to wipe out funding of the "Workforce Investment Act" (WIA).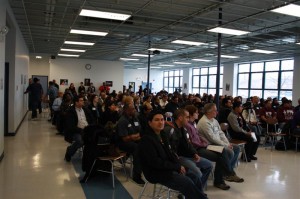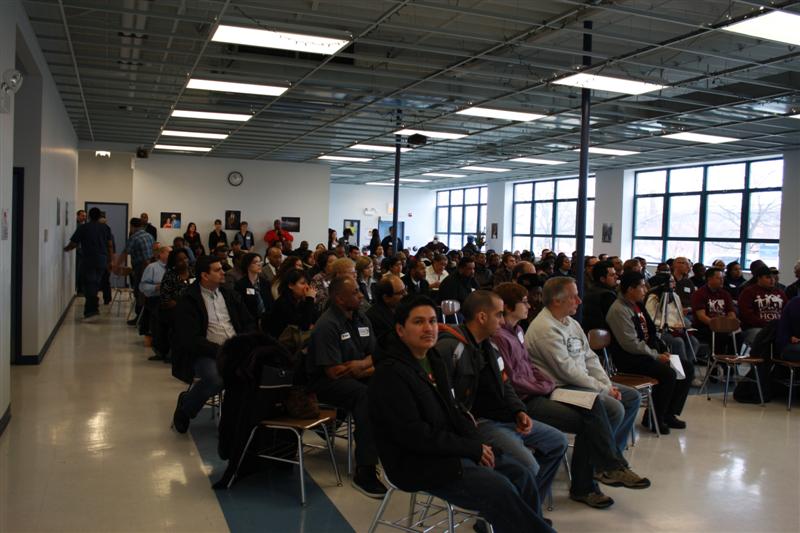 The several dozen people who attended the event held at the Greater West Town Community Development Project want the U.S. Senate to prevent the shut-down of programs and services that are helping thousands of people in Illinois find work and career opportunities.
The March 24th "Speak-Out" was followed with a tour of the state-of-the-art job training center recently opened by the Greater West Town Community Development Project at 534 N. Sacramento Blvd.
"I am a single mom who wants to provide for my children without any public assistance. Greater West Town's training in shipping and receiving will allow me to get a long-term job leading to a career," said Helena Brewster, who participates in vocational training at the center. "I want Congress to know how many lives you are affecting everyday with the decisions you're making,"
U.S. Congressman Danny K. Davis, who voted against the job-killing cuts to WIA, joined the chief of staff for Illinois' senior U.S. Sen. Dick Durbin and Ald. Walter J. Burnett Jr. (27th) in meeting with program participants and alumni, and employer and community partners to call for restoration of the federal funding.
U.S. Sen. Mark Kirk, who voted in favor of the cuts, declined an invitation to participate in Thursday's event.
"WIA is an essential investment in the communities we serve, the ones that are still hardest-hit by unemployment, economic hardship and the lingering effects of the recession," said Bill Leavy, executive director of GWTP.
He warned that if the WIA cuts stand, in Chicago alone over 46,000 economically disadvantaged job seekers would lose services.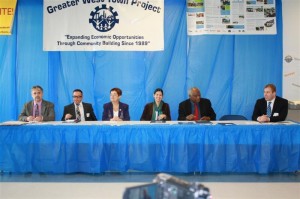 GWTP and its co-host agencies – Erie Neighborhood House, Jane Addams Resource Corp (JARC) and OAI Inc. – all use WIA funds to help unemployed workers sharpen and develop new skills while helping local companies find the skilled, motivated workers they need to strengthen and grow their businesses.
JARC's Executive Director Guy Loudon said, "In order to grow jobs, we must be positioned to provide employers with a high-quality workforce that is equal to the challenges and opportunities ahead."
Local small and mid-sized businesses oppose the WIA cuts.
"As business owners, we value the programs that WIA funds," said GWTP Employer Steering Committee member Talat Rashid of Tramco Pump Co. "Our companies are full partners in the programs' operations – designing curriculum, providing training support and job placements for program graduates. These programs are critical to the development of the skilled workforce that our small and mid-sized companies urgently need, and to our ability to create the jobs to pull our city and our country out of this recession."
WIA youth program funding is also on the chopping block, threatening the futures of economically disadvantaged young people. Greater West Town uses WIA Youth funding to address the high-school dropout problem – a major crisis in our communities and low-income and minority communities across the country.
GWTP's WIA-supported West Town Academy has recovered and re-enrolled over 1,000 high-school drop-outs; current enrollment is nearly 150 students. And over 700 students have already earned their high school diploma and successfully transitioned to college, advanced training and careers.
West Town Academy student Elizabeth Lahmon said the WIA-supported high school has changed her life.
Before she came to West Town, "I wasn't getting the help I needed. I wasn't learning, and nobody cared if I made it or not. At West Town, we students know that they care, and now I am a straight-A student with a plan to go to college. Cutting WIA funding would hurt not only me, but everyone else who finds herself in my situation.
"This program gives us the chance to fulfill our dreams and share our gifts with the world," said Elizabeth, who will graduate from West Town Academy in June 2011.
Sen. Durbin has stated: "Now is not the time to cut programs that help get people back to work."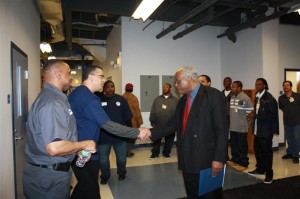 And Congressman Davis added, "In the darkest hours of the recent economic crisis and in the face of such stubborn high unemployment, Greater West Town's WIA-funded programs have succeeded in reclaiming our young people who had dropped out; helped ex-offenders become contributing members of our communities; and bolstered our small businesses through their partnerships.
"GWTP has placed over 90 percent of its graduates over the past three years and helped over 100 small businesses hire quality workers. Destroying WIA programs will set us back, not move us forward."
West Town Academy Student Council Vice President Ericson Vega said Thursday, "Today's 'Speak Out' is just the beginning. We are going to keep on standing up for funding WIA programs. WIA is making a huge positive difference, and is needed now more than ever! We won't let our futures be put on the chopping block by Congress."