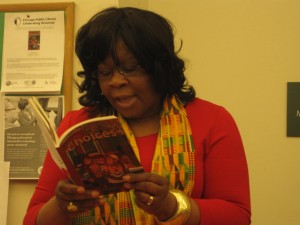 Author Bernadette Jones is a survivor of domestic violence. That's one of the themes found throughout her 2010 book Choices, which is set in the 1970s in Austin.
Earlier this month, Jones read from her book to a packed house at the West Chicago Avenue public library in observance of Black History Month.
The reading was followed by Q and A, which included praise for the book and a community discussion about the consequences of the choices people make in their lives.
Listen to the story here.
[podcast]https://dl.dropbox.com/u/2584446/Bernadette%20Jones%20at%20Austin%20library.mp3[/podcast]