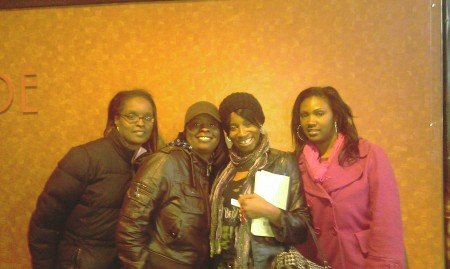 The range of issues facing the black community are sometimes hard to bear, especially in a neighborhood like Austin. Tales of young women surviving domestic violence, rape, infidelity, betrayal and poverty that seemingly always is swept under a dirty rug on the porch of an abandoned brick building is all too real for many.
But somehow beyond that brick building are iridescent colors and painful memories that shape us – black women.
Tyler Perry's For Colored Girls journeys through the souls and hearts of its viewers with uncut, raw truth about the lives of black women and the men they happily – and painfully – love.
The movie is based on Ntozake Shange's poems "For Colored Girls Who Have Considered Suicide When the Rainbow Is Enuf," first published in 1975. Perry strategically draws on Shange's work to produce a masterpiece that is hard on the eyes and even harder on the heart.
With a star cast that includes Janet Jackson, Whoopi Goldberg and several others, each character represents a color and a story.
Jackson portrays Jo, a well-to-do woman who works as a magazine editor and faces betrayal in her marriage when she discovers her husband is gay. An even deeper pain is shown through Kimberly Elise's character as she fights a life of horror with an alcoholic man and two children by her side.
All nine women demand that you listen and face the pain as they did. Through poems, some from the original play and others written by Perry, the characters come to exist through metaphors and imagery.
"Tyler Perry did the original play justice," West Side resident Jennifer Jordan, 27, said after seeing the film with AustinTalks at AMC Showplace Galewood 14. "While watching the movie, I found myself relating to some of the characters and actually feeling their pain."
The movie was not easy to watch. The black men featured in the movie – including Hill Harper, Khalil Kain, and Michael Ealy – portrayed horrifying reflections of the villainous behaviors many of us have seen firsthand.
"I sometimes wish more positive images as black men could be celebrated in film and in real life," says longtime Austin resident Wanda Brown, 47 and mother of five.
"It pains me to know that some of these things are happening right in my very own neighborhood," Brown says. "Austin is definitely home to a lot of the types of women and men that Perry characterized in this movie."
Being a product of Austin myself, I remember seeing firsthand the pain of black women and the men that sometimes caused that pain. And somehow, most of their stories are untold. Tyler Perry dares to tell these stories, most hard to hear, all hard to even understand.
Wanda Brown's daughter Phantasha says, "I knew since I was 15 years old that being a black woman meant being strong."
Phantasha Brown says that living in Austin her whole life has equipped her for the harsh realities of the world, most of these realities shown in the film.
"Every black woman has a story," said Jordan. "The pain that we have all lived through and somehow survived should not be ignored. I'm thankful that Tyler Perry revealed to the world some of the shameful things we experience."
austintalks.org@gmail.com
Don't miss what another AustinTalks commentator – John W. Fountain III – has to say about the movie. His column will run Nov. 26.