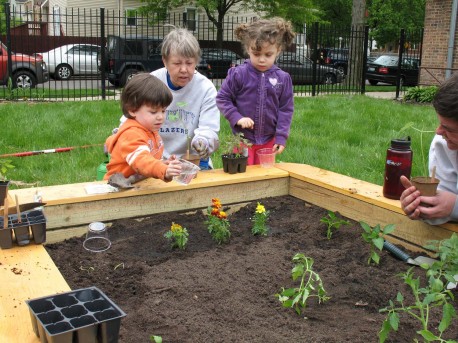 Two years ago it was a foreclosed home with weekly drug deals and constant gang violence. It was boarded up, overgrown with tall grass and weeds; its siding falling off around broken windows. The house was a danger and an eyesore for Austin residents.
Now, the former site of drug buys is a place where West Side residents can go to pick tomatoes, corn, collard greens, squash and more in a garden started by the Third Unitarian Church.
"People are now going to this location to get vegetables rather than buy drugs. That is a huge benefit to the community and an excellent addition to the neighborhood," said Ald. Deborah Graham (29th).
Third Unitarian Church's Rev. Brian Covell said the community garden, located just to the east of the church at 5832 W. Fulton Ave., is on a piece of land that in the late 1980s was once owned by the church, but sold the property because the church wasn't using it.
"The church sold the property to a landlord, and he sold it and . . .  it came into less stable and responsible hands," Covell said. "It has been used in various capacities, some Section 8 Housing, but this is a property that has seen several police visits, a lot of drug activity and gang violence."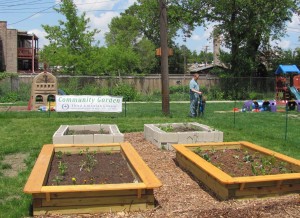 After taking ownership of the property in 2008 and tearing down the foreclosed home, the 111-member congregation decided to create a community garden, in part because there aren't enough places to buy fruits and vegetables on the West Side.
"This is a part of the city that is very poorly served by food distribution," said Gary Zacny, the church's board president. "On every street corner in Austin you can by french fries, but you can't buy broccoli on any."
Covell said it's issues like too few grocery stores and other necessary services that inspire the church to be active in the community. Third Unitarian Church hosts monthly CAPS meetings for Beat #1512, and Covell said it's through these meetings, that his congregation is learning more about the neighborhood's problems and how to address them.
"The issue of foreclosure and the many eyesores throughout the community, and gang violence and drug activity, these are issues that take place in our community that make our neighborhoods unsafe and we want to address those issues," he said. "We want to increase safety on our corner and on every corner, one block at a time.
"You used to be able to look out the church and see a drug transaction taking place — that won't be happening anymore. We went from a crack house on our boundary to a place where we grow tomatoes."
Ellen Barcroft and Dororthy Wilz planting near fence
But starting the garden wasn't as simple as digging and planting. After testing the soil, church members learned there was lead in the soil. After much research and some help from the University of Illinois at Chicago, the church learned about raised garden beds.
Raised beds, also called garden planters, keep pathway weeds from the garden soil, prevent soil compaction and serve as a barrier to pests, according to EarthEasy.
Zacny said the raised beds also take some of the strain of gardening off of seniors, and allow both children and those in wheelchairs to participate in gardening because of the elevation.
"Third Unitarian Church has embraced the community by calling the garden a community garden," Graham said. "I worked with Third Unitarian Church as state representative, and I am happy to work with them as alderman. They have put a lot of effort into to cleaning up their block."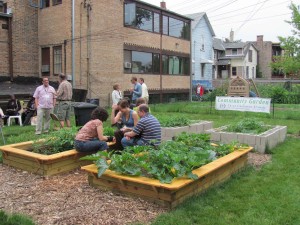 Mena Boulanger, former board president of Third Unitarian Church and a member since 1976, said  the church hopes to expand on the garden after the success of this pilot year.
"We want to be do more with community outreach, we want more people in the neighborhood to come in and garden," she said. "We were very pleased with how things grew and went this year, and this winter, we need to do more work to get more neighbors involved. We just want to keep expanding."
Zacny said the church enjoys good relations with the community and hopes to build on it.
"It is part of our long-range plan to be good neighbors and participate in the revitalization in the neighborhood," he said. "We have to take the community back block by block."
austintalks.org@gmail.com