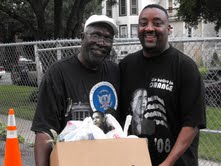 As the uncertain economy continues to take its jabs at working-class families throughout Chicago, one West Side church is working to lighten the blows.
Hope Community Church located at 5900 W. Iowa St. opens its doors every weekend to families in need through its food pantry. Supported by the Greater Chicago Food Depository and through donations, the pantry operates every Saturday morning.
In addition to the 5-year-old pantry, the church also provides a mobile food truck on the second Thursday of the month.
Rev. Steve Epting said his church started the mobile pantry three years ago because there was such great need. He said as the economy has weakened and jobs have become scarce, it's been especially difficult for many families.
"We wanted to be able to help families on a weekly basis put fresh fruit and vegetables on the table," Epting said. "The response from the community has been overwhelming, both in those using the pantry and those volunteering to work and run the pantry each week."
The pantry, which is open each Saturday from 9 a.m. to noon, serves only those living in the 60651 and 60644 zip codes, while the monthly mobile food truck, next available Aug. 12 from 3 to 5 p.m., serves everyone.
Yvonne Johnson, food service director for Hope Community Church, said the church has served more than 7,000 people, and most weeks more than 150 people enter its doors.
"It is a necessity in our community, not a luxury," she said. "This is important to the people of our community. Even though most are working full-time jobs, they just don't have enough money to buy groceries."
Austin does not have as many grocery stores as other less-populated neighborhoods, forcing residents to travel outside of the community if they want to shop at larger stores such as Dominick's in nearby Oak Park.
Janice Dendy, 53, a lifelong Austin resident, has relied on the food pantry since it opened in 2005.
"This is so helpful to my family, and we are really appreciative of this," she said. "Almost everyone on my block comes and stocks up on fresh fruit, vegetables and even sometimes meat."
Dendy said the selection of food is always good.
"I wouldn't be able to afford this type of healthy food at my house," said Dendy, a diabetic who must be careful about what she eats. "I honestly don't know what we would do without this program. I can't afford these foods, and I need the vegetables and fruit . . . it is so important for me and my family to eat healthy."
Johnson said both the pantry and mobile truck started slow, with 10 to 12 people coming for help each week. Now with dozens of people coming, she said many people use it as their main "grocery store."
"The need for food in this community is so great," she said. "I think without this program it would be devastating to so many people. We are not servicing the same people all the time; we have homeless people who look forward to it and need this food, we have families who need it, we have kids who need the food."
It costs about $6,000 a year to keep the food pantry open, and Johnson said all the money comes through donations. Johnson said the church spends around $400 a month, the majority of that spent buying food from the Greater Chicago Food Depository. The rest of the food comes from donations and the USDA.
Rev. Epting said he's pleased with the success of the food pantry and the "outpouring of support from the community."
"We deliver food to seniors, we do emergency food services; we really try to be out in the community and find ways to help the residents in our neighborhood."
Also on the West Side, Friends of Columbus Park Food Pantry distributes food every Friday from 8 to 11 a.m. Watch our earlier story about that food program.
austintalks.org@gmail.com