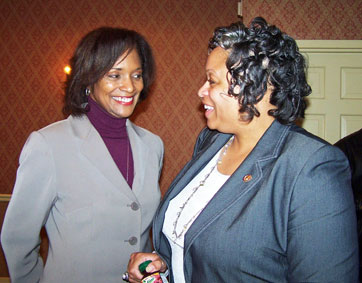 In her first campaign for public office, newly selected state Rep. Camille Lilly will face no opponents in this fall's general election.
Not even a Republican will be on the ballot to challenge the long-time Westsider, a spokesman for Cook County Clerk David Orr's office confirmed this week. Two independent challengers were kicked off of the ballot earlier this month.
Unless there is a write-in campaign for another candidate, Lilly will coast to victory in November. Lilly, who has another fundraiser planned for this Saturday, reported having $7,395.86 after expenses in her campaign coffers, according to her semi-annual campaign disclosure report filed July 20 with the Illinois State Board of Elections.
Efforts to reach Lilly for comment were unsuccessful.
In April, Lilly, the associate vice president and vice president of external affairs and development at Loretto Hospital, was selected from seven applicants to complete the term of Deborah Graham.
Graham had represented the 78th District, which includes some of the west suburbs and parts of Chicago's Austin neighborhood, from 2003 until March 26. That's when she resigned to become alderman of the 29th Ward. Her predecessor, Ike Carothers resigned in February after pleading guilty to corruption charges.
Only one of the original applicants – former state Rep. Ted E. Leverenz of Melrose Park – challenged Lilly, this time as an independent. Leverenz and another resident, Mary Russell Gardner of Chicago, were thrown off of the ballot Aug. 3 by the Cook County Board of Elections for not having enough valid signatures to qualify.
The 69-year-old Leverenz, who served in the Illinois General Assembly from 1975 to 1992, said he could not afford to challenge the board's decision.
Efforts to reach Gardner were unsuccessful.
The deadline for the GOP to slate a candidate is long past due. No Republican was nominated in the Feb. 2 primary. The GOP committeemen in the 78th Representative District – who hail from Oak Park, River Forest and Proviso Townships; and the 28th, 29th, 36th and 37th Wards – had until mid-April to appoint someone to fill that vacancy on the ballot, according to a spokesman for the Illinois State Board of Elections.
Oak Park Township Republican Committeeman Linda Tibensky said she could not comment because she has just been appointed to her position. Efforts to reach Lee Roupas, chairman of the Cook County Republican Party, and other GOP committeemen for the 78th District were unsuccessful.
Independents had to file their nominating petitions by June 22.
Lilly began fundraising shortly after her appointment. Since May 20, just before her campaign organization, Friends of Camille Y Lilly, filed its statement of organization, Lilly reported receiving  $10,119.57 in contributions, including $5,000 from the Illinois Hospital Association PAC and $1,000 from the Illinois Trial Lawyers Association.
She also loaned $1,129.57 of her own money to her campaign, which has spent $2,723.71.
austintalks.org@gmail.com