Throughout the summer, the Austin community has taken steps to clean up the streets, fight violence and provide services to neighbors in need.
So far, programs like 100 blocks, 100 churches, organized by the 15th District CAPS office, and the Fight Against Foreclosure and US Bank, organized by the Coalition to Save Community Banking, Westside Health Authority and South Austin Coalition, have left their marks.
Those efforts gave Hope Community Church, 5900 W. Iowa St., the idea to reconnect with the community surrounding its congregation through its recently created Block Ministry.
Rev. Steve Epting founded the program with help of his 300-member congregation. He said the idea came out of the need to address the community and its issues.
"We wanted to reach out to our neighbors and lend a helping hand," Epting said. "This also helps our church and its members become more community minded. I think churches in general don't practice enough outreach, and without outreach and community involvement, there is no real understanding of what the people need."
Over 120 people are involved in the Block Ministry, which breaks down into smaller groups of seven to 12 that meet once a week and go door-to-door within a 23-block radius of Hope Community Church.
Epting said some of the services provided include: mowing and raking lawns, sweeping and cleaning out garages, washing windows and painting houses. If more substantial work needs to be done, Hope Community Church refers the homeowners to construction or maintenance companies.
Hope Community Church member Tesa Brown said it's been a very rewarding experience – and one that has brought her closer to the members of her church and the neighborhood around it.
"It has been a pleasure to give back to the community, and really, it has been a lot of fun," she said. "We want people to know that we are here to help, and there are services out there that they can take advantage of if they need them."
Brown said it's important in a community like Austin, where people are struggling to get by, to come together as a community and lend a helping hand to those in need.
Virgil Crawford of the Westside Health Authority agrees.
He said communities need to come together as one if they want to thrive.
"Every day we see a gap, and we want to bridge the gap and reconnect people with their neighbors and residents on their block," said Crawford, a member of Hope Community Church. "We want the community to be connected, and when you have neighbors who have relationships and look out for each other, that's when you start eliminating problems on a block."
Epting said since the program began nearly two months ago, over 100 people have been served.
He is happy with the progress so far but not satisfied, saying the next step is reaching out to the 15th Police District Clergy Committee and other churches in the Austin community.
"We are trying to grow outside our church," he said. "We are also trying to get 100 churches to adopt a block. If we can spread it out, it will be that much more successful and helpful in preventing violence and bringing the community together."
Crawford said the key to being successful is to encourage everyone to become involved in one way or another.
"Adopting blocks, doing community outreach and offering free services can be very effective in bringing a community together and making it a safer place to live," he said.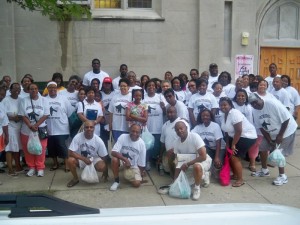 "If it takes a whole village to raise a child, what does it take to raise a village? The block-by-block organizing is effective, and it attracts a lot of people. But it is important to connect with what is in the hearts and minds of the people, and that always equals success."
Church member Brown said a big challenge is "getting the word out."
"There are so many people in this community that need help, but most people don't know where to find it," she said. "This is a great way to connect people and get the word out because we are going door-to-door. This is an effort to reach out to our community and make sure our neighbors have everything they need."
austintalks.org@gmail.com