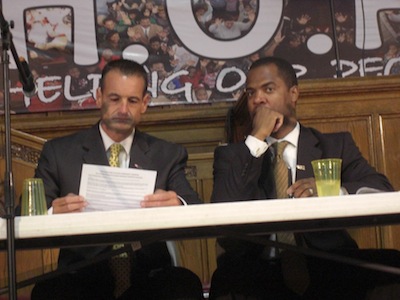 The message – Step Up, US Bank- was loud and clear Tuesday night at Hope Community Church in Austin as over 150 people gathered to voice their concerns over the foreclosure crisis that has hit the West Side neighborhood hard.
Two US Bank representatives joined locally elected officials and community activists in search of a partnership that appeared to be a way's off.
After listening to several people speak, Robert McGhee, vice president of Community Development for US Bank, said the foreclosure situation affects every neighborhood in Chicago.
McGhee said US Bank, which took over Park National Bank last Fall after federal regulators seized it wants to form a partnership with the community. But when pressed on when the two parties could "come to the table," McGhee couldn't give a definite answer.
"We are here to work ,and we want to find a constructive way to work with the community," he said. "We are willing to do pretty much whatever it takes to slow this problem down, but it is going to take time. We can't just slam the breaks and stop it overnight."
Virgil Crawford of the Westside Health Authority continued to push McGhee on a partnership, saying that this is a "right now issue."
"It is time for you to step up, US Bank," he said. "We want to form a partnership, and we want to come to the table and get to work. But we need both sides at the table."
McGhee's response: whenever the call has come through, we've answered. We are here tonight, I am here tonight, but these things take time.
Steven McCullough, president and chief executive officer of Bethel New Life and a member of the Coalition to Save Community Banking, repeated the coalition's desire for US Bank to establish a $25 million foreclosure pool to be used for rehabbing foreclosed properties that families can then live in.
"We need somebody that will go to the wire for us," he said. "We need a partner that believes in our community, in our residents, in our schools and business. In order to have a partnership, we need to have terms, and that is what we are trying to establish."
McCullough shared some alarming statistics – facts like in the last 16 months, US Bank has been involved in 366 foreclosures on Chicago's West Side and neighboring suburb of Oak Park. And in 2009, US Bank filed 1,927 foreclosures citywide, the third highest for any financial institution, but he said it is not all US Bank.
"US Bank is what we are talking about today, but they are not the only bank," he said. "All banks need to be held accountable, and today it's US Bank; tomorrow it's going to be Wells Fargo, and then it's going to be Chase. We are going to go after all banks, everyone in the food chain that has hurt our families and our communities."
A study by the Chicago Rehab Network found that in March 2010 alone, there were 1,763 newly filed foreclosures and 1,896 completed foreclosures in Chicago. In Austin's three wards – the 28th, 29th and 37th – there were 102 newly filed foreclosures and 128 completed foreclosures.
According to the same Chicago Rehab Network study, JP Chase Morgan leads all banks in Chicago with 235 forecloses, followed by Deutsche Bank National Trust Co. with 171, US Bank with 167, Wells Fargo Bank with 110 and CitiMortgage Inc. with 109.
A common theme of the night was praise for Park National Bank and its long record of serving and investing in the community.
David Pope, president of the Village of Oak Park, said there needs to be a financial institution that will continue the commitment Park National Bank had to the residents, businesses and communities of the West Side.
"The takeover of Park National Bank amounts to the largest bank robbery in the United States," Pope said. "The foreclosure crisis is killing these communities, and it's profoundly harming the Austin neighborhood. We need a partnership with US Bank to bring back the community banking that these neighborhoods used to grow and need to survive."
McGhee said US Bank is very aware of the positive impact Park National Bank had on the community.
Jacqueline Reed, president and chief executive officer of the Westside Health Authority, said the West Side used to have a banker in the neighborhood who understood the needs of the residents and invested in the needs of the community.
"Now we have streets that are lined with boarded-up houses and a banker who is not taking stepping up to help the residents who need help," she said. "The government gives handouts to the banks, the banks ought to give handouts to the people. When they don't, something ain't right."
Delia Ewing, 84, who lives in the 5300 block of West Congress Parkway, pleaded with McGhee to clean up the property located next to her house, recounting how just last week someone carried a dead dog out of the foreclosed home that is not boarded up.
"I look out my window and can see the abandoned house next door with weeds as tall as I am. There are nights when dogs are barking all night, and people are going in and out of the building at all times," Ewing said.
"My husband and I are 86 and 84 years old. We have tried to clean up the property, but we can't do it anymore. All I am asking for is help, we just need help. I don't know what is going on over there, but I am scared."
Reed pushed McGhee to make a commitment to deal with the property today, and he assured the lively crowd that something would be done Wednesday morning.
The Westside Health Authority's Crawford then interrupted McGhee, insisting these are "right now issues" and asked McGhee if US Bank is willing to commit the $25 million to a community stabilization.
McGhee sidestepped the question, saying "that's an unrealistic question."
Ald. Deborah Graham (29th Ward) challenged the audience to commit to taking money out of US Bank if a partnership and a plan of action is not reached.
"We want to work with you (US Bank). But if the issue isn't resolved, we need to take our money out of the bank," she said.
Rep. Karen Yarbrough (D-Chicago) said US Bank has to do better for the West Side community and communities all across the city. She said the community standard set by Park National Bank will not be forgotten and it's time for US Bank to "step up and become a community banking leader."
"We need you to step up US Bank, and let me tell you, the people in the room aren't going away," she said.
austintalks.org@gmail.com
Don't miss our earlier coverage of the Park National story:
Community not ready to give up on Park National
Some see silver lining in the Park National Bank cloud

Program gives entrepreneurs, home buyers a hand

Elected officials take a foreclosure tour in Austin