BUILD Chicago unveiled its newly renovated Austin campus to the community last weekend. The $24 million project features mental health resources, music and art studios, a gym and a café.
The new youth and community hub, located at 5100 W. Harrison St., will open to the public on weekdays starting in May, and youth programs will start this month. The BUILD team hopes to extend its hours to Saturdays by later this spring and be open past midnight in the summer.
The hub was funded by local and state governments and over 100 private donors, including BMO Harris Bank and United Way of Metropolitan Chicago.
Mayor Lori Lightfoot, U.S. Rep. Danny K. Davis, state Sen. Kimberly Lightford, Cook County Commissioner Brandon Johnson and Ald. Chris Taliaferro (29th) spoke at the ribbon-cutting ceremony held last Saturday at the new building.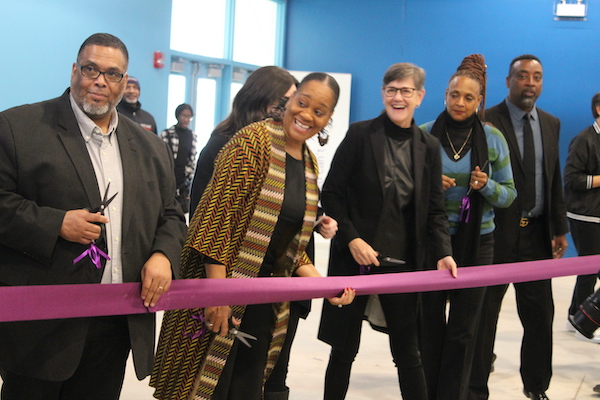 "This corner has seen tragedy, but now it's seeing triumph," the mayor said.
BUILD CEO Adam Alonso spoke about the violent death of 15-year-old Kevin Davis Jr., who was shot outside of Michele Clark High School in December and died on BUILD's fence.
"Kids are dying every day. Right in front of BUILD. Right outside the walls of BUILD. Blocks away from BUILD," Alonso said.
Sen. Lightford recalled the trauma she experienced growing up in Austin and the fear kids have about crossing gang boundaries to get to school. Jonathan Olivan, BUILD's manager of intervention services, said BUILD is a "neutral block" for kids in all areas of the West Side to gather in a safe space.
The first floor of the hub has a kitchen, locker room with laundry, a gym, a café powered by Momentum Coffee, and studios and labs for music, art and woodworking. The Peace and Justice Center is an area where healing circles for people experiencing trauma from violence can be held.
Up the grand staircase that is painted in an ombre of green and blue, is what staff like to call the "youth floor." It features a lounge, gaming area, private reservable rooms, an indoor track and mental health services.
The third floor is expected to be complete by this summer and will feature an outdoor terrace and more workshop spaces.
The campus provides free Wi-Fi and has an acre of green space that includes a chicken coop. Individual, family, group and aromatherapy sessions are available for free to all youth enrolled in BUILD.
"Put the guns down, say no to drugs. That don't work. What works is: 'Put that down and pick this up,'" said Bradly Johnson of BUILD. "Pick up hope."