Semaj Beecham, a 10th-grade student from Austin, threw the ceremonial first pitch to former Cubs player Jason Heyward at last week's ribbon-cutting ceremony celebrating the opening of a new state-of-the-art sports, education and wellness center in North Austin.
"By continuing to play sports, I wanna go to college … Just seeing other people like myself growing up and being able to have this opportunity is a great feeling," Beecham said at Thursday's event.
He is a longtime participant in By The Hand Club For Kids' after-school programs, which also will be offered at the community center starting this spring.
The 10-acre, $35 million nonprofit center, at 1841 N. Laramie Ave., houses Chicago's largest indoor turf field and the only FIFA-regulation turf field, the Chicago Fire FC Field. It features indoor and outdoor fields, professional-grade sports equipment, an eSports lab, a gym, classrooms and play spaces built to provide community members with 100 hours a week of sports, classes and activities.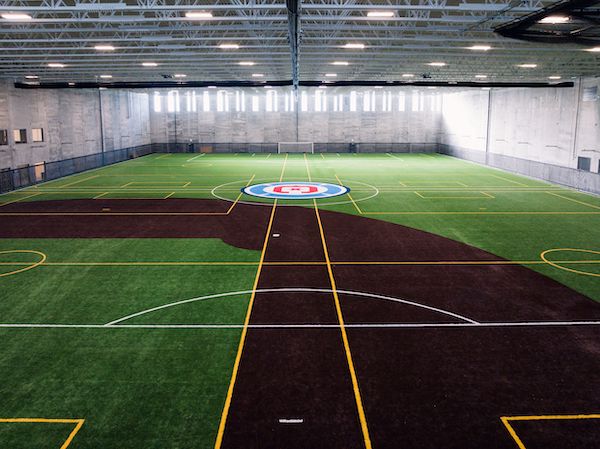 "We knew that by offering after-school and sports programming that our kids would be safer," Donnita Travis, founder and executive director of By The Hand Club For Kids, said.
"We knew that by promoting good health – and that's food access as well as physical exercise– that [we would close] the life expectancy gap here on the West Side of 10 years from the Loop."
The center will provide year-round access to competitive sports for local youth and adults, including soccer, basketball and baseball, led by the nonprofit Intentional Sports.
"Spreadsheets will make 10 acres in the middle of four communities sit vacant for 40 years," said Andy McDermott, founder of Intentional Sports. "Spreadsheets have turned youth sports into a massive industry, pulling sports farther and farther away from communities that need it the most."
The Chicago Fire Foundation and the Jason Heyward Baseball Academy will offer no-cost scholarships, and low-cost soccer and baseball programs to community members. In addition, all revenue generated through program fees will support campus operations and activities to make the center accessible to everyone.
Camella Sutton, one of the North Austin residents who rallied against the city's earlier plans to turn the vacant land that houses the center into a solar farm, said the community center brings value to the community.
"Today, our children of North Austin are taking center stage and becoming more, becoming the focus as they are the future leaders of our community," she said.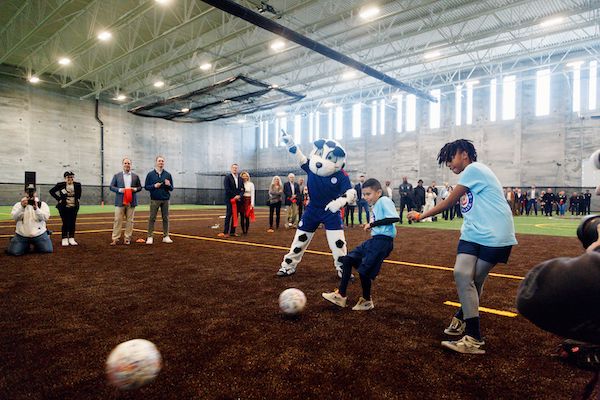 In the newly built classrooms, auditorium, play spaces and computer labs, By The Hand Club will host free after-school programming for 400 CPS students. The faith-centered nonprofit also offers students additional services like hot meals, vision and dental care, and transportation. Grace and Peace Church Revive Center will provide education, health, domestic violence support and community-linked services.
Jason Heyward, nonprofit leaders, former Bears player Sam Acho and elected officials, including Ald. Emma Mitts (37th), Mayor Lori Lightfoot and Lt. Gov. Juliana Stratton, celebrated the opening of the community center among hundreds of community members.
With its 152,333 square feet of indoor and outdoor space, the center expects to attract 25,000 visitors to the West Side each year and host local and national leagues.
"The best is still yet to come because this facility is going to in-house so many young people and change so many lives," Mitts said.
Kal-El Parra, who works for By The Hand Club's North Austin location, said it's amazing that people from different communities came together to build this facility for the youth.
"It gives an opportunity that not many have had before."