Bethel New Life wants to raise $5.4 million to build a community center in honor of longtime West Side leader Mildred Wiley , who worked at the nonprofit before she died in 2019.
The Mildred Wiley Wellness Hub, located on Bethel New Life's 9-acre campus at 4950 W. Thomas St., will feature a horticenter that includes a café, commercial kitchen, co-working space, classrooms and a sunroom.
A fitness center and indoor and outdoor community gardens will also be a part of the hub. A 10,000-square-foot health center will provide basic health services, specializing in senior and behavioral health services. It will be operated by ACCESS Community Health Network.
Sharif Walker, Bethel New Life's president and CEO, said ACCESS is funding the $8 million health care center, with Bethel New Life responsible for raising $5.4 million from grants and private donors.
Walker hosted a fundraiser at his home last month. Senior residents, Bethel employees and potential donors including a BMO Bank representative were present to talk about how the hub would impact the West Side.
The hub is named after Wiley, who was the founding chairwoman of the board of directors for Austin Coming Together. She will be honored through paintings and murals along a one-mile-long art walk that will weave around the campus.
Bethel New Life secured a $200,000 grant from Austin Fresh and a $750,000 federal grant through Congressman Danny K. Davis' office earlier this year. Walker said they applied for funding through Chicago's Recovery Grant program but weren't successful. They are applying for more grants and hope to hear back on those in the next three months or so, Walker said.
Bethel New Life split the project into two phases. The first phase will be the garden, horitcorture center and the ACCESS health center. Phase two will be the outdoor café, landscaping and the fitness center. They're still fundraising to start on phase one and expect to start construction some time this year.
ACCESS already occupy one floor of a facility next to Bethel New Life at 4909 W. Division St. They will move into the newly constructed building on campus and occupy two to three floors. ACCESS predicts it will provide services to 8,000 patients.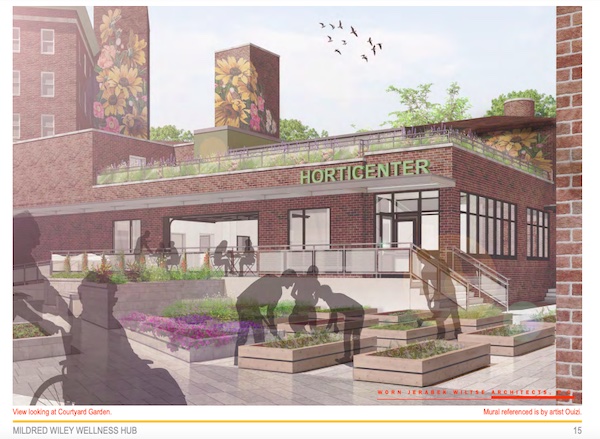 A survey was conducted by Bethel New Life to see what hub features were the most popular among its senior residents. Residents chose their preferred color schemes, garden styles and activities for the hub. The top three activities requested were farmers' markets, food pantries and a café.
Walker is working with Dr. David Ansell of Rush University Medical Center to brainstorm strategies on how to create stronger pitches for grants. Dr. Ansell works with West Garfield Park's Rite to Wellness campaign, which is creating a similar wellness center to Bethel's.
"I think the work that we're doing, creating these kinds of epicenters for wellness in communities is going to speak to the bigger project that the mayor's office has been so involved in helping West and South Side communities," Walker said.
He also hopes to attract donations from individuals and companies. He wants to emulate a similar program in Pittsburgh, the Bidwell Training Center, that has a workforce development program sponsored by the Heinz Endowments. Bethel New Life's horticenter will have a commercial kitchen that could host culinary development programs, Walker said.
"We want to try to find a combination of corporate and other supporters that might give us the ability to recreate that kind of workforce development initiative," Walker said.
Anyone interesting in donating money to the Mildred Wiley Hub can donate on Bethel New Life's website.
In December, Bethel New Life opened a food pantry with support from Amazon and Rush University Medical Center. Bethel's Daily Bread provides fresh produce and grocery items and connects people with an electronic referral service to Rush's wellness programs.
Walker hopes the Mildred Wiley Hub will not only reengage Bethel New Life but the whole Division Street corridor from Cicero Avenue to Austin Boulevard.
"We don't just see this as an opportunity to rebuild Bethel, but to spur the kind of investment that's needed to rebuild the whole corridor," Walker said. "That can be vital lifeline to the Austin community."