About 224,000 Chicagoans have already voted in the Nov. 8th election.
Voters who have gone to one of more than 50 early voting sites have cast 120,835 ballots. That's on top of 103,219 vote-by-mail ballots that have been returned to the Chicago Board of Election Commissioners.
On the West Side, 1,837 voters have cast votes since Oct. 24th at the 29th Ward early voting site at Amundsen Park, 6200 W. Bloomingdale Ave., and 1,469 early voting ballots have been cast at the 37th Ward site at the West Chicago library branch, 4856 W. Chicago Ave.
Early voting started four weeks ago, on Monday, Oct. 7, at two sites and will continue through Monday, Nov. 7 at these sites. The sites will be open from 10 a.m. to 4 p.m. Sunday, Nov. 6 and from 9 a.m. to 6 p.m. on Monday, Nov. 7th.
All early voting locations will also be open on Election Day from 6 a.m. to 7 p.m. Any voter living in Chicago can vote at any of these sites, no matter where they live in the city – or they can vote at their assigned polling place. The city has more than 900 sites, down from previous elections.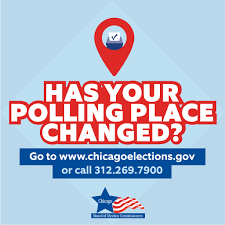 Click here to check your voter registration status. To check your precinct polling place on Election Day, click here.
Nov. 8th is the last day for a mail-in ballot to be postmarked. If a voter decides not to return the vote-by-mail ballot, the voter may submit that ballot to the election judges at the precinct and polling place for that voter's home address, and then cast a ballot in person.
If the vote-by-mail ballot was lost or did not arrive, the voter may sign a "cancellation of vote By mail ballot affidavit" and cast a provisional ballot, also at the precinct and polling place for that voter's home address.