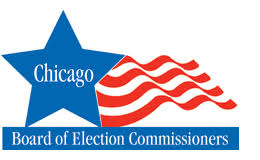 No candidate has yet filed to challenge 29th Ward Ald. Chris Taliaferro in the Feb. 28th municipal election, while 37th Ward Ald. Emma Mitts has one official challenger at this point.
Candidates for all 50 seats on the Chicago City Council, mayor and the new Police District Council began filing petitions Monday; Nov. 28th is the deadline for filing a candidate petition with the Chicago Board of Elections.
Longtime Ald. Mitts told AustinTalks this will be the final term she seeks on the City Council, having first been appointed by Mayor Richard Daley in January 2000. Taliaferro is seeking his third term after losing a sub-circuit judge election earlier this year.
If re-elected, Mitts, 67 years old, said she wants to follow through on projects already in the works, including a youth center for the Boys & Girls Club and the opening of Culver's and Peach's restaurants on the police training academy campus in the 4400 block of West Chicago Avenue.
"I think I've been there long enough to know a little bit more than to try not allow my community to suffer and just walk away," Mitts said.
She said she wants to take the next term to mentor future candidates and to work on future projects such as the Primary Care Pavilion to be located across the street from the PCC Wellness Center and the potential move of the CTA headquarters to West Garfield Park.
"Yes, I could easily retire, but for the love and the mission that I have for the community and coming out of the pandemic, I want to be able to try and pass the baton rather than not knowing who's going to carry on the work," Mitts said.
One another candidate – Howard Ray – has filed a petition to run in the 37th Ward. Jake Towers been circulating a petition to get the 473 signatures required of aldermanic candidates to get on the February ballot but as of Tuesday night had not filed.
Ray has been fighting for a community benefits agreement with Amazon's new facility opening in West Humboldt Park. He said he wants to fight for his community and was critical of Mitts for not informing the public about the Amazon facility.
"We can't keep letting this happen. I have to represent this community," Ray said. "The community is crying out for better representation."
The Police District Council is a new body created to improve policing and public safety; the council will consist of three candidates from each of Chicago's 22 police districts. The 15th and 25th Police Districts cover the Austin community.
In the 15th Police District council, Arewa Karen Winters and Deondre Rutues have filed. Rutues unsuccessfully challenged Ald. Mitts in the last election. Winters has been a community activist for police accountability since her 16-year-old great-nephew was shot to death by Chicago police.
Winters and Rutues both said they plan on teaming up in the campaign since three members from the 15th District will be selected to serve on the council. They both vow to hold police accountable while creating relationships between the police and the community.
"First and foremost, the whole idea behind this is to hold the police accountable when they do things towards our community, but we also should be working with them to figure out how to better what they do," Rutues said.
Winters said she has some plans for how the 15th District Council could work that include racial healing circles, monthly community meetings and a type of advocacy team that supports families impacted by crime cases the police work on. For now, she's focused on creating public awareness of the new district council.
"The community needs to understand it and know their rights and contribute to it," Winters said. "It's a historic first time in the country, so we definitely want Chicago to set a new precedent, and hopefully other cities will follow suit."
In the 25th Ward, Corey Dooley is collecting signatures but has not filed yet.
The Chicago Board of Elections is posting an updated list at the end of each business day as to who has filed a petition on its website.
Ballots will be finalized on Dec. 22, with challenges to a candidate's petition taking place earlier in that month.