The weeks-long Finding Ceremony art exhibit at Austin Town Hall ends Saturday with a closing ceremony from 2 to 5 p.m.
Everyone is invited to Saturday's culminating event, which will feature a performance by Sojourner Zenobia and give residents one last chance to experience the exhibit that opened last month.
Led by Curator-in-Residence Tiffany M. Johnson under the Chicago Park District's Anchor Curatorial Residency program, the exhibit examines the tension between safety, care and (in)visibility of Black and Brown lives in public space.
The exhibit, created as part of the Anchor Curatorial Residency under Chicago's Cultural Asset Mapping Project, features 11 artists from the West and South sides. Austin is the first in the residency series where art is displayed in public areas, making it accessible to the community, Johnson said.
"We started doing it at Austin Town Hall because Austin Town Hall has a beautiful history and practice of engaging with the community," she said.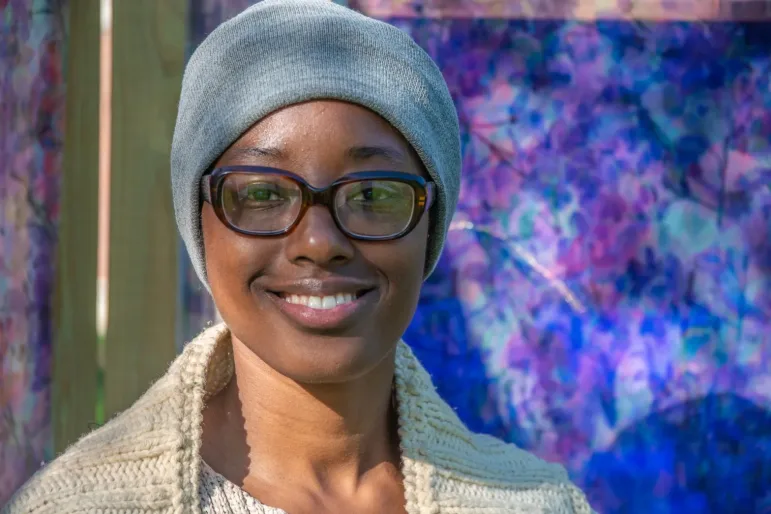 Johnson told NewCity she wanted to explore the tensions Black and Brown people feel when accessing public space, such as Chicago Park District cultural centers like Austin Town Hall at 5610 W. Lake St.
"My experience with the residency was literally just about the process. It's not about having the answer, it's not about getting it right. It's more about, what is that process of being honest about those two tensions around like the grief, the anger, the frustration, the uncertainty, the invisibility, the hyper-visibility, but also the care and the culture that's there. What is the practice that we're trying to build as we rebuild our relationships with public and natural landscapes?"
A site of refuge and grounding, this inaugural iteration of the Anchor Curatorial Residency investigates present-day geographies of collective anchoring and invites local residents to explore ways of recharting and reclaiming Black and Brown relations to public spaces and each other.
Artists participating in the exhibit – held inside and outside Austin Town Hall – include Austin natives Tavia David, Antonia "Toni" Ruppert and Edna M. Togba; as well as Janelle Ayana Miller, Kenya Cree, Eseosa Edebiri, Cai Thomas, JaMaa, Alexy Irving; and collaborators Jade Williams and Cristable Reynosa-Martinez of The Black Bloom Project. Community stewards involved with the exhibit are Dushaun Branch, Jasmin Graham, Dianna C. Long and Emone Moore.
"There is this idea around where fine art can be placed, and I wanted to challenge that," Johnson told the Austin Weekly News. "Who are the artists that want to challenge where art can be shown? How do we engage with it, and what are the materials that we can use that'll last at least six weeks outside?"
At a panel discussion held this week, Johnson said she tried to "embody" the history of the 1960s West Side's art and soul movement that brought art to public spaces. The exhibit places art inside Austin Town Hall as well as outside of the building.
One piece sits high in a tree created by Ederbiri. She said there's trust in public art since it's left out in the elements.
"When you do public art, you'll never know what will happen. There's a lot of trust in leaving something outside. It is for everyone," she said.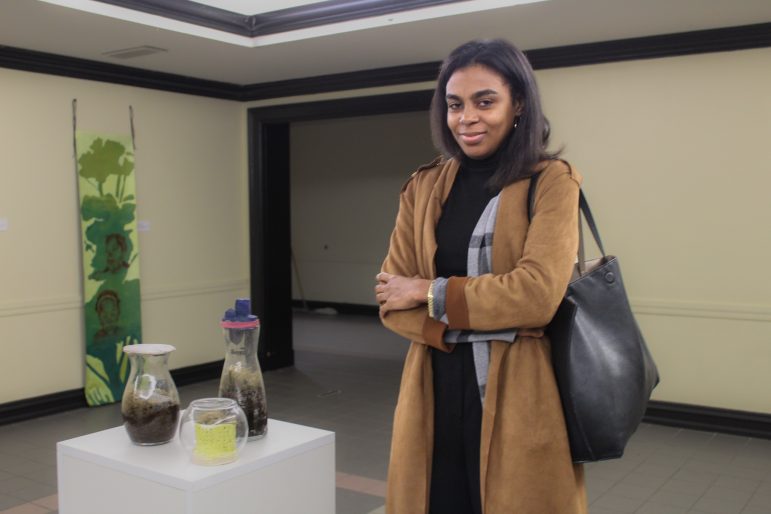 A plastic chair made from sugar also sat outside, created by David. Exposed to the elements and the sun, it melted soon after it was placed there last month. "Returning to the earth" is a theme David uses in her work.
"It's actually a homage to the candy houses that I grew up to, without having a real understanding that I didn't have access to produce and grocery stores readily in my neighborhood without having to leave it," David said.
More art is found inside the building and down the spiral staircase, including multiple paintings by artist Antonia Ruppert. Listening to residents of the community inspires the themes in her work.
"It allows their voices to shine through my hands," Ruppert said.
She wants everyone to know they can be creative.
"I feel like God made all of us creative, and it's not for the elite," Ruppert said. "You know, being creative is not for a certain partition of society. This for all of us, anyone can be creative."
As the resident curator, Johnson has been embedded in Austin the last year, working with West Side resident to plan the exhibit and programming that complements what exists in the community.
For example, Johnson found that music and live performance are central to the neighborhood, so a DJ performs on Thursday evenings to help draw folks to the weekly farmers market held that day outside Austin Town Hall, according to NewCity.
The exhibit hours this last week are 11 a.m. to 7 p.m. Friday and 11 a.m. to 5 p.m. Saturday.