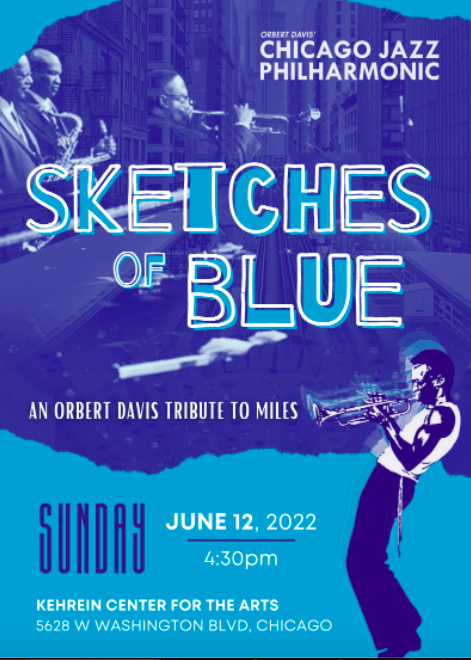 For the first time, the Kehrein Center for the Arts is hosting the Chicago Jazz Philharmonic. The performance – which fuses jazz and classical music – will be at 4:30 p.m. Sunday, June 12, and tickets will be just $1.
This will be the group's first concert in Austin. Usually, the Philharmonic performs downtown at the Auditorium Theater, with tickets costing $50.
The Philharmonic wants to tackle the "arts desert" by taking their music to the West Side, where performances are few and far between.
"We can't just say it only happens for those who can afford it. It's just not fair," said Orbert Davis, who is co-founder and artistic director of the Philharmonic.
This isn't the first time the Philharmonic has been in Austin. Its JazzAlive education program, managed by Jordan Mandela, has been at Leslie Lewis Elementary School since 2018 with a drum line program. And Moving Everest Charter School started a Music Discovery program in 2021.
"We've made it more of a strategic plan to serve more schools on the West Side and to do more with our education programs there," said Rhapsody Snyder, the Philharmonic's executive director. "I think it makes sense that we also expand our performing arm there as well."
During Sunday's intermission, the Kehrein Center will host a panel discussion with Davis and West Side community leaders Vanessa Stokes and Reesheda Graham Washington.
Stokes, who serves on the Kehrein Center's board of directors, said the pandemic has prompted "critical community conversations."
"How do we move forward through a pandemic? Because everything's different now. Like how we move, how we talk to each other, how we love each other," Stokes said. "So, I think this is the perfect time to have conversations about being intentional because I think people are looking at how to communicate better."
The playing of both classical and jazz music at Sunday's concert is intentional – and something that doesn't happen often.
"What we do when we bring it together, it changes the creative practice, it changes the dialogue. It also changes the individual, which changes lives," Davis said. "This is something we've sort of stumbled on that from the musician, to the audience, to our students to their parents or their families."
The Philharmonic will return for a second concert in September titled "Havana Blue." The group's third concert will kick off Black History Month in February with the performance of "DuSable to Obama: Chicago's Black Metropolis."