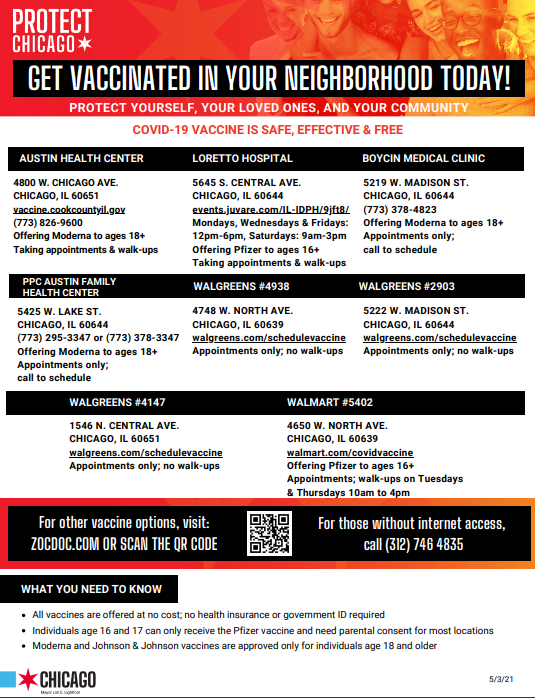 As Chicago reports the highest number of COVID-19 cases over a 24-hour period, Chicagoans are being encouraged to get vaccinated and get tested to stop the spread of the contagious Omicron variant.
Chicago health officials announced Thursday that there were 5,216 confirmed cases of COVID-19 and that the city's positivity rate had jumped to 8.6% from 4.9% on Monday. The positivity rate is the percentage of people testing positive out of all COVID tests given.
These numbers are scary, said Dr. Allison Arwady, head of the city's Department of Public Health. But she noted that people can protect themselves and others by getting vaccinated and wearing their masks.
Block Club Chicago reported that 78 Illinois residents were reported dead from COVID-19 since Wednesday, and in Chicago, three deaths were reported. The city is seeing an average of more than eight people dying per day.
On Wednesday, Illinois health officials reported 16,581 new confirmed and probable cases, setting a record for daily cases and pushing the total number of reported infections since the start of the pandemic past 2 million, according to the Chicago Tribune.
In response to the growing number of cases, Cook County officials announced Thursday that some suburban county businesses will have to check customers' COVID-19 vaccine status starting Jan. 3, mirroring action taken earlier this week by Chicago Mayor Lori Lightfoot. She is requiring bars, restaurants, gyms and event venues to check patrons' vaccine status starting Jan. 3.
Commissioner Arwady encouraged Chicagoans nervous about breakthrough cases to get tested before and after holiday gatherings.
Here are some testing sites in coming days, with West Side locations highlighted:
2-5 p.m. Dec. 23 at New Mission Temple Church of God and Christ, 4700 W. Polk St.
10 a.m.-4 p.m. Dec. 23 at Greater Galilee Baptist Church, 1308 S. Independence Blvd.
9 a.m.-4:30 p.m. Dec. 26 at 4545 W. Division St.
10 a.m.-3 p.m. Dec. 26 at Greater Galilee Baptist Church, 1308 S. Independence Blvd.
Noon-2 p.m. Dec. 27 at Grand Boulevard Prevention Services, 3847 S. Giles
Noon-4 p.m. Dec. 27 at Labor of Love Apostolic Church, 2800 E. 79th St.
11 a.m.-4 p.m. Dec. 27 at Church of the Good Shepherd Congregational United Church of Christ, 5700 S. Prairie Ave.
10 a.m.-2 p.m. Dec. 29 at Good Samaritan Community Services, 3551 W. Roosevelt Road
10 a.m.-4 p.m. Jan. 2 at New Mount Pilgrim M.B. Church, 4301 W. Washington Blvd.
8:30 a.m.-3 p.m. Jan. 2 at New Life Covenant Church Southeast, 7621 S. Greenwood Ave.