Chicago Avenue will be brimming with energy Saturday s people put their feet to the pavement for Austin's sixth annual P.O.W.E.R. 5K run/walk.
Registration, which will be capped at 500 participants due to COVID, is still open with a few slots left. People can register the morning of depending on the number of pre-registrations.
This year's event aims to raise awareness for breast cancer, so Rush University Medical Center and The Loretto Hospital will be present for people to schedule a free mammogram screening.
"The 5K has a much larger meaning in the Austin community than just a race or a walk," said Marshawn Feltus, the race day coordinator and owner of ACT yoga studio in Austin.
People of all ages are expected to line up at the start on Chicago and Mayfield avenues. Among those participating are a group of nearly 10 youth from Al Raby High School, some from the football team.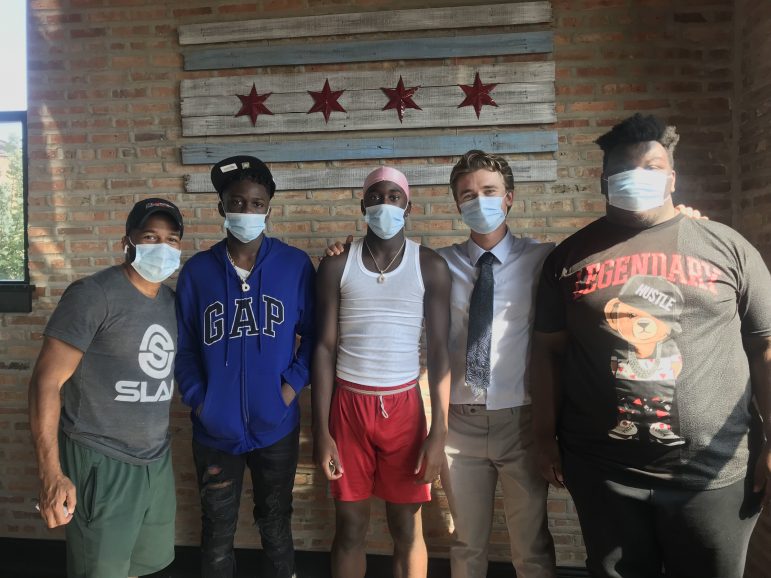 The Cook County Sheriff's Office's community engagement team partnered with GRIP Outreach for Youth to assemble a group of youth, adult mentors and six officers to participate together.
"I did it because you know it's nice to go out with the community and do different things and have fun," said Martavious King, a sophomore at Al Raby and an Austin resident. "Small steps, stuff like this — 5Ks —really goes towards making the community more positive."
The teens shared how there aren't always opportunities to spend time outdoors because of safety concerns due to violence.
"Chicago, it's like you have to be on 10 toes at all times," said Deshawn Perry-Tucker, a sophomore at Al Raby. "You could be an innocent bystander, and someone could come shoot at you. You have to be aware of your surroundings, where you're going and who you're going with."
While Chicago continues to facing challenges with gun violence, Karale Williams, the male mentorship manager at GRIP and the boy's football coach, stressed the importance of exposing youth to positive things that are going on in the city.
"There's a lot of things you can feel about Chicago as your city, but that's why it's important to be a part of things like the 5K, because not everything is always negative," Williams said.
"Generally in my experience, there hasn't always been a lot of young people at these events, and so it'll be nice to see like a whole group of young people running together. It's been about trying to teach them how to advocate for themselves, use their voice and then also just have a good time."
The Cook County Sheriff's office looks forward to engaging with the youth during and beyond Saturday's event.
"I've learned from Karale that people don't trust you if you show up one time," said Collin Andrews, a member of the sheriff's office community engagement team. "We're not here for the 5K only. We're here for the long haul, and we want people to know that."
The sheriff's office has a permanent residence in Austin on Chicago and Lockwood across from Pop Courts.
As for Saturday, the hope is that the event draws not only Austin residents but people beyond the community as well.
"The more we can engage the community, the more we impact people to know that there are people still rooting for the prosperity of everybody," said Feltus. "I would hope that more people from other communities come out and support. We all want for some of the same things so if we share in each other's desires and passions it helps us all feel better."
Check-in will open at 7 a.m. and the race begins at 8:30 a.m. Registration and volunteer sign-ups can be found here.