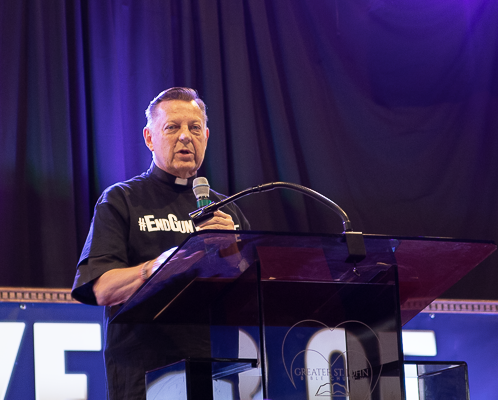 The Rev. Ira Acree was out of town last week – his cousin's son had lost his life to gun violence – when a reporter called to ask for his thoughts on the July 17 mass shooting in Austin.
"And I'm saying, 'What mass shooting?' I only been gone a couple of days,'" Acree said Wednesday during a service at Greater St. John Bible Church.
The service followed a weekend in Chicago with 60 people shot, including six children, the Chicago Sun Times reported. The mass shooting in Austin wounded six people, one adult, four teens and a 12-year-old.
Echoing his comments made two weeks ago, in the wake of a July 4th when 104 people were shot, including 15th District Commander Patrina Wines and a 15th District sergeant, Acree said, "We are in an undeclared state of emergency."
Acree said he asked Father Michael Pfleger, senior pastor at Saint Sabina Church, to speak at the Greater St. John service weeks ago. The topic was supposed to be "hitting reset for the post-pandemic world. And then we had to shift gears because there's another pandemic, a gun violence pandemic."
Pfleger was once asked what would motivate people to stand up against gun violence, he said. "If seeing children shot and killed does not motivate you, what is wrong with you?"
"Chicago should be outraged" at the deaths of children, he said.
The Sun Times reported last week that over 90 children under 15 have been shot in Chicago so far this year.
"We have saved the whales and the birds, but we haven't learned how to save our children," Pfleger said at the July 21st service.
He said everyone has to get past the finger pointing and blame, "just get in the room, lock the door and figure it out."
Pfleger called for neighborhood town halls to connect police, faith leaders and City Hall with residents old and young.
"The young brother standing on the corner knows more about what's going on than sometimes those in the elected official's office," but people with that knowledge aren't being engaged with or invited to the table where the change can take place, he said.
On Thursday, St. Sabina officially announced a gun buyback program, starting Monday, July 26.
They're offering $200 for handguns and assault rifles, $100 for rifles and $20 for high-capacity magazines. The buyback program is anonymous, and open only to those 25 years old and younger.
Pfleger said the buyback program came about when a businessman approached him and said he was tired of people being shot.
When a young person comes in to turn in a gun, Pfleger said, St. Sabina will do more than just hand them the money.
"We'll give you the cash, but first want to talk to you. Here's what we can offer you. Here's the programs we can offer you, here's what we do for young adults with records and on parole." Pfleger said, adding he wants the youth to know they have options.
The Leaders Network, a Westside social justice organization co-chaired by Acree, will be hosting training in the Greater St. John fellowship hall Sunday, Aug. 1 at 2 p.m., Acree said.
"We'll be training you how to be first responders because this violence is not going to go away overnight," he said.