By the end of the month, Gov. J.B. Pritzker is expected to sign legislation backers say will finally open the door for Black and Brown business owners to break into the state's billion-dollar cannabis industry.
It won't come a day too soon, say a key lawmaker who pushed the legislation and West Side ministers who are still upset about the way the original state law has kept Black and Brown business owners out of the lucrative industry.
At a recent meeting of The Leaders Network, state Rep. La Shawn Ford said white men have had the advantage in opening dispensaries since 2014 when state lawmakers legalized the use of medical cannabis for some conditions.
When lawmakers expanded the law to include recreational use in 2020, those same white businessmen "got a head start."
"And still to this day … there is still no Black or even Brown ownership in the cannabis industry," said Ford, an Austin lawmaker who's taken the lead in changing the 2020 law.
Ford said the governor knew the original law – under which has begun doling out licenses to sell recreational pot – has been a failed rollout.
That's why the latest legislation – once it becomes law – will release 110 more recreational licenses as well as additional medicinal licenses to only social equity applicants, Ford said. There will be Black and Brown ownership in those first 75 licenses, he said. Additional licenses will be awarded after that.
Social equity applicants will be able to open anywhere they wish in the state; they won't have to follow the rule that prohibits two dispensaries from being less than 1,500 feet away from each other, Ford said.
A major problem with the original recreational cannabis law is that it allowed whites to qualify as social equity applicants. "That's where we failed. That's not in the new bill," Ford said.
Black people will be running dispensaries by the end of the summer, the lawmaker said, enabling people to help their communities grow economically – and this, in turn, will benefit neighborhood groups, schools and others on Chicago's West and South sides.
"We need to create millionaires and billionaires in our communities, and we know this industry will do that," Ford said.
David Cherry, president of The Leaders Network, thanked Ford for his leadership and for addressing the disparities in the current cannabis law.
"Our people have been locked up and locked out of this industry, and now comes a time for us to have an opportunity to start a business it's very difficult," Cherry said.
A frustrated Rev. Ira Acree asked: "Who's making the case for affirmative action for African American businessman who want to start a cannabis business? White people had a 250-year start."
Ford agreed, saying there needs to be reparations in Illinois' cannabis industry; the state needs to help people who want to open a dispensary, and they need access to capital.
"The state owes Black people the support needed to have a successful business. We do it for so many businesses," he said, pointing to a clean energy bill state lawmakers hope to pass yet this month that could give a nearly $1 billion bailout to Exelon.
Ford said the state also failed people who invested in cannabis businesses as they waited for licenses to be awarded. They spent money to solidify and hold spaces; they're paying rent for places they never have been able to open.
"We need to make sure we do something so there's reparations for those people."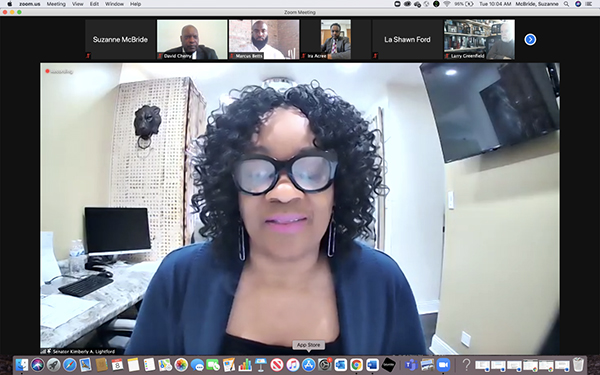 Senate Majority Leader Kimberly Lightford said she accepts the blame for problems with the medicinal cannabis law.
But Lightford said lawmakers had no idea the social equity definition in the recreational cannabis law would "screw things up." There were also problems with the way the applicants were scored, she added.
Lightford is hopeful the new legislation will resolve these issues and that more Black business owners in Illinois will wind up getting dispensary licenses than anywhere else in the country.
"There's no use constantly explaining what happened or crying over spilled milk," she said.