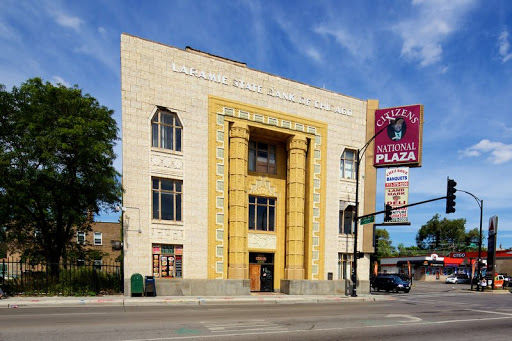 The group recently chosen to develop the former Laramie State Bank building last week updated members of the Austin African American Business Networking Association on the nearly $40 million project.
More than 200 jobs will be created by the project, which will include 76 units of mixed-income housing, a bank branch, a café and an interactive blues history museum at the corner of Laramie and Chicago.
Athena Williams, executive director of the Oak Park Regional Housing Center, one of the partners chosen by the city of Chicago earlier this year to develop the site, said Austin United Alliance will keep the community up to date as the project progresses.
This pledges comes after some West Side residents and leaders complained about a lack of outreach from many of the developers earlier in the process, before the city picked Austin United Alliance out of seven proposals to develop the long dormant site.
Williams said one goal will be to work with the eventual tenants of the multi-story housing to help those who want to become home owners to be able to do that. This work will be managed through the Oak Park Regional Housing Center's Austin office, which has been open since 2017.
Those interested in living in the new complex, which will have 1-, 2- and 3-bedroom units, will need to apply and show they qualify based on income. Seventy-percent of the housing units will be income restricted.
Earl Chase, executive director and vice president of real estate at Heartland Housing/Heartland Alliance, another partner in the project, said a family of four making $55,000 will qualify.
"This is going to be a high-quality project … and it's going to look world class. .. It will be open to those who have restricted incomes," Chase said Friday at AAABNA's monthly meeting held over Zoom. Heartland Housing has operated in Austin for 22 years and currently has 38 residents.
Tameeka Christian, an Austin native who's lived in the community for over 40 years, will run the coffee lounge; she said her grandfather used to be a customer of the bank.
"I love the feel of a coffee shop. It brings community."
Former Ald. Ike Carothers, who works for The Safer Foundation, asked if there will be a community benefits agreement and whether people with an arrest or conviction record will be hired to work on the project.
In response, Williams described the project as "private meets public," noting the city doesn't own the former bank building so her group had to come in with a plan for how their proposal would benefit residents.
She said the project will include many community benefits, including affordable housing, energy savings (solar panel), a new bank branch and a business incubator. Williams also noted the courtyard planned for the property will host public concerts, talks and plays, and there will be a community-led board of directors.
Williams confirmed that people with records will be able to apply for jobs.
Project representatives said the first "outreach event" for jobs related to the project will happen in the community before any other contractors learn of employment opportunities.
Lee Fantroy, project executive for BOWA Construction, which is also involved in the project, said their focus "is going to be working with everyone" and identifying local businesses that could bid with a larger company on the project.
"We will work for you" so that you can understand every aspect of this project, Fantroy said.
Carothers, writing in the Zoom chat, said, "It appears that a lot of decisions have been made prior to the Board being established, the community should be involved on the front end."
Williams conceded "there were some decisions that were made because they had to be made" because of the way city officials handled the request for proposal (RFP).