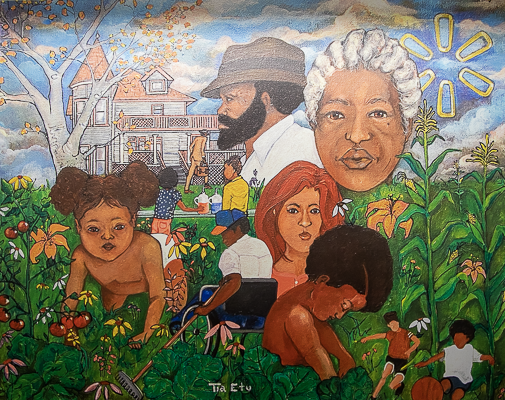 Austin's Walmart Supercenter unveiled a new, community-focused mural Thursday as part of their Chicago Mural Program.
Artist Tia Etu hopes her mural, titled "Generations" and located just inside the store's grocery entrance at 4650 W. North Ave., shows Austin in a way everyone can identify with.
"I want everyone to get the whole community feel from it, you know, the coming together, working together, being together, playing together," she said.
Etu said she has strong ties to Austin. Her studio, Whatever Comes to Mind, is at 27 Harrison St. in Oak Park, just a block west of Columbus Park. It's been around for about 32 years.
Originally, Etu said, she was told the mural would be for a different neighborhood and was expecting to have to do some research.
"And then I was told it was going to be about Austin and I was like, 'Well, I know Austin,'" she said. "So I just tried to pull the things that I thought were wonderful about it."
Some of those wonderful things include Austin's landmark Pink House at 556 N. Central Ave., food and flowers being grown and a pair of young girls with a snow cone stand.
Etu said a lot of community-requested murals can be pretty directed: "It's got to be: show the businesses, show this show that."
For this mural, "I showed the business, but I showed little girls being entrepreneurs as opposed to whatever stores are there … I like that much better," she said.
"Generations" is the first mural to be unveiled as part of Walmart's Chicago Mural Program, according to a press release.
The company is working with local artists, leaders and community members to design unique murals that speak "to the diversity and resilience of the local community," the release said.
The installation comes less than a year after the Austin Walmart was looted in the wake of George Floyd's killing and closed for several months.
Ald. Emma Mitts (37th) said, "Walmart took care of us, even in the midst of a pandemic when it was closed [after being] looted."
They reached out to her team and community groups to make sure their produce went to the community instead of going to waste. "A lot of families were able to eat just based on that alone, little food to put on their tables," she said.
Mitts said there was concern at the time over whether the store would reopen.
As previously reported by AustinTalks, the store reopened in November following remodeling, which included the addition of a health clinic.
The clinic offers multiple healthcare services through Walmart Health, including primary care, optometry and hearing services, with the goal of providing "affordable and accessible healthcare," according to a press release.
HabitNu provides a diabetes prevention and weight-loss coaching program through Walmart Health. The program is covered by Medicare and free for Chicago residents who aren't on Medicare.
The clinic also offers COVID vaccinations; appointments can be made here.
Austin store manager Ronald Ewing said the store is part of the community as a resource and advocate for it.
The addition of the mural builds on that. "We hope that it brings the same pride for you as it has done for us," he said.