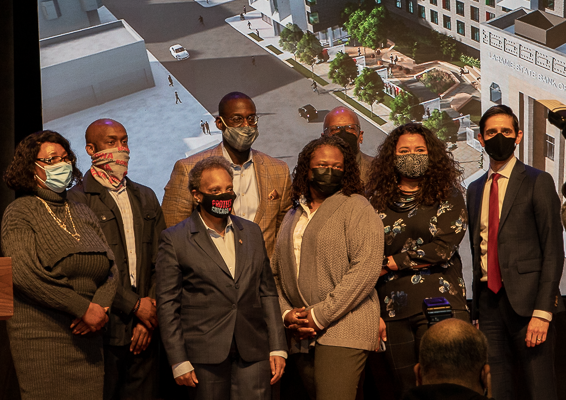 City officials announced Monday that Austin United Alliance, led by Heartland Alliance and Oak Park Regional Housing Center, has been selected to develop the Laramie State Bank building.
The proposal – one of seven the city considered – involves opening a new bank branch in the building at the corner of Laramie and Chicago, as well as a café and a interactive blues history museum, "that celebrates Chicago's seminal contributions to blues music," said Department of Planning and Development Commissioner Maurice Cox.
The project also calls for a multistory residential building with 72 units of mixed-income housing. The entire project will total $37.5 million, Commissioner Cox said, who was joined at Monday's event in Austin by Mayor Lori Lightfoot.
Lightfoot said there will be multiple opportunities for the community to check in and give feedback to the city on how the project is advancing.
"I have no doubt whatsoever they're going to keep us honest and make sure that the work, as it rolls out, it is consistent with the vision that the community set forth with these various developers," she said.
Community members have raised concerns about the way residents and other stakeholders have been engaged in the process so far, AustinTalks has reported.
Athena Williams, executive director of the Oak Park Regional Housing Center, said in an interview, "it's all about the community."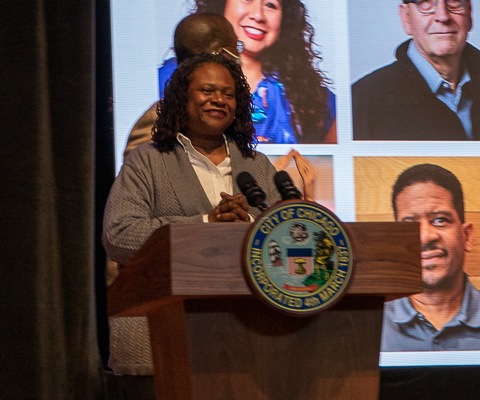 She's been an Austin resident for 25 years, she said.
The housing center has "been serving the community for 15 years" and co-chairs the housing task force for Austin's quality of life plan.
Williams said at the event, Austin United Alliance will be looking for strategic partnerships with community organizations like the Austin African American Business Networking Association.
Malcolm Crawford, executive director of AAABNA, said in an interview this is a project that needs to be taken to completion, "and we know that they have the resources to take this to completion."
AAABNA is the corridor manager for Chicago Avenue. Crawford said he wants the project to work and will be at the table to make sure of it.
"I'm not going anywhere. I'm going to be right there to make sure that it goes the way it's supposed to. "You better believe it," he said.
Part of the plan to build wealth in Austin is educating renters about homeownership, Williams said. "It's one thing to be a renter, but then when you talk to renters to try to help them become homeowners, that's the way to understand about building wealth."
The second way Austin United Alliance will be building community wealth is through the bank.
"We're not going to just own the bank building, not include the community," Williams said.
The building will be managed and operated by a community-based board of directors who will control reinvestment of proceeds, according to Austin United Alliance's developer pitch video.
Williams said they plan to "work with Austin Coming Together and their core members to create some of this community outreach and some of this community participation," including recruiting board members.
The city also named developers for RFP projects in Auburn Gresham and Englewood.
Evergreen Redevelopment and Imagine Group will develop vacant land near Halstead Street and 79th Street into affordable housing and retail space. Ignite Technology and Innovation will develop the Green Street fire station into a commercial kitchen, business incubator and "community living room."
Mayor Lightfoot said this round of RFPs are "the start. This isn't the final destination."
Commissioner Cox said plenty of opportunities for developers who didn't receive one of the RFP projects are coming soon.
"We need them in other places on these corridors," he said. "The Soul City, Chicago Avenue in and of itself we identified nine different opportunities … they constitute over 300,000 square feet of development.
"As we move forward in each of these corridors, this is truly all hands on deck," he said.
Williams said she's most excited just to be part of the Austin project. She used to drive by and see how dilapidated the community was, and now "this little black girl from the West Side of Chicago (is) part of this huge project for transformation for the community."