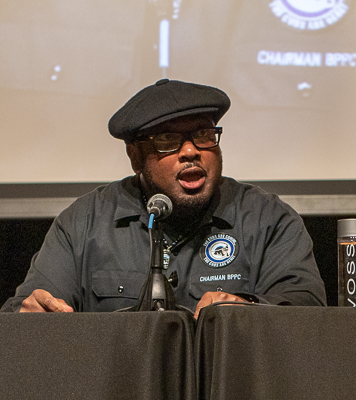 Black Panther Party leader Fred Hampton's fiancé, Akua Njeri, and son, Fred Hampton Jr., attended a pre-release screening of "Judas and the Black Messiah" at the Kehrein Center for the Arts last week.
Njeri said before the showing, "very little accurate stuff has been written" about the Black Panthers. This movie means audiences "get to see the real deal."
"Judas and the Black Messiah" tells the story of Fred Hampton Sr.'s rise to chairman of the Illinois chapter of the Black Panther Party, his betrayal by FBI informant William O'Neal and his death at just 21 during a police raid.
Njeri recounted her first meeting with Hampton. She was a student at Wright City College, and Hampton had just finished speaking at a student event.
She walked up to him with a book of poems she'd written and asked what the chairman thought of poetry.
"He says, 'If art don't reflect the needs and aspirations of the people, we not with it. No art, no poetry, none of that.' I hid my book behind my back and said, 'Me either brother.' That's how I met chairman Fred."
She was there a couple years later at 2337 W. Monroe St., sleeping next to Hampton on Dec. 4, 1969, when police banged on the door then kicked it in guns blazing, she said in an interview for ABC News.
Mark Clark, 22, another Black Panther leader, was killed as police entered the room.
During the shooting, her fiancé never moved, Njeri said; he had been drugged by O'Neal earlier in the night.
Njeri said, after she and the others surrendered, she heard police commenting that Hampton Sr. was wounded and likely to survive – then more shooting – "He's good and dead now," someone said.
Njeri's son was there, too, on the night his father was killed, she said at last week's screening.
"He smelled cordite from the gunfire. He felt the pigs when they handcuffed us and took us out, he felt the revolver pressed against my stomach when they said you better not try to escape."
She was nine months pregnant; Hampton Jr. was born just 25 days after the raid.
Fred Hampton Jr. now chairs the Black Panther Party Cubs, a group that attempts "not to walk in [the Black Panther's] footsteps, but in their Panther paw steps," he told the Los Angeles Times. They continue some of the Black Panther's best-known programs, like providing free breakfasts for kids.
He was a consultant for the film, which opened Friday at nearly 1,900 theaters nationwide and has received rare reviews.
Hampton Jr. said his family had been approached a number of times about books or movies about his father, but they had always turned them down.
He recalled one winter when he was 12, and they had no heat. Taking a book deal could have ensured the family had enough money to get their gas turned back on, but his mother refused because the book would have "raised the police up as the hero."
The pros outweighed the cons this time, he said.
Hampton Jr. said part of the film's impact is acknowledging there was, and still is, a resistance movement.
"It's important for people to recognize movements come from the ground up. That people who look like them, talk like them, stand up for them."