WASHINGTON, D.C. – Rev. Ira Acree and Rev. Marshall Hatch were in Washington, D.C., Tuesday to pray for the country's future and condemn white supremacy.
A day before President Donald Trump leaves office, the two West Side ministers kneeled beside ministers from New York City outside the Washington National Cathedral and called for Americans to advocate for healing and reconciliation.
"We're not here for a party, we're really not here for a celebration. We are here to offer invocation," said Acree, senior pastor of Greater St. John Bible Church. "Our nation needs prayer like never before."
The group had planned to gather at the Martin Luther King Jr. Memorial, but it's closed until Jan. 21 due to security measures put in place after thousands of Trump supporters stormed the U.S. Capitol earlier this month to protest President-elect Joe Biden's election.
Acree and other ministers decried the "last gasp of white supremacy" and the attempt two weeks ago "to use terrorism to subvert democracy" as Congress was certifying the 2020 presidential election, which Biden won by more than 7 million votes.
"Enough is enough," Acree said, calling on faith leaders from all faiths and races – including evangelicals who've backed Trump –"to stand with us, and let us lead the way as we bring real healing and conciliation to this country."
Rev. Gregory Livingston, of the Church of the Upper East Side in New York City, said, "White supremacy will not win." Livingston, the president of The Leaders Network NYC, said the ministers had come together on Inauguration Eve to stand up against white supremacists who are fueled by hate and ignorance and believe they can subvert democracy.
"Our response is no and never. … Like the Nazis, these workers of evil will soon be confronted with the truth," Livingston said. "We were not scared to come to Washington, D.C. … We will not give them ground."
Hatch, senior pastor of New Mount Pilgrim Missionary Baptist Church, said the country's choices are stark and quoted Dr. King: "We must learn to live together as brothers and sisters, or we will perish as fools."
Systemic racism is strangling the U.S., he said, adding there should be income equality for all and a safety net that provides the basic necessities for everyone; children shouldn't have their futures determined by the Zip code in which they live.
Community should be the choice, not chaos, Hatch said.
"It has been dark in America, it has been four years or separation and strife … but we believe if we work for it, morning will come… and joy comes in the morning. … We declare it's morning time in America."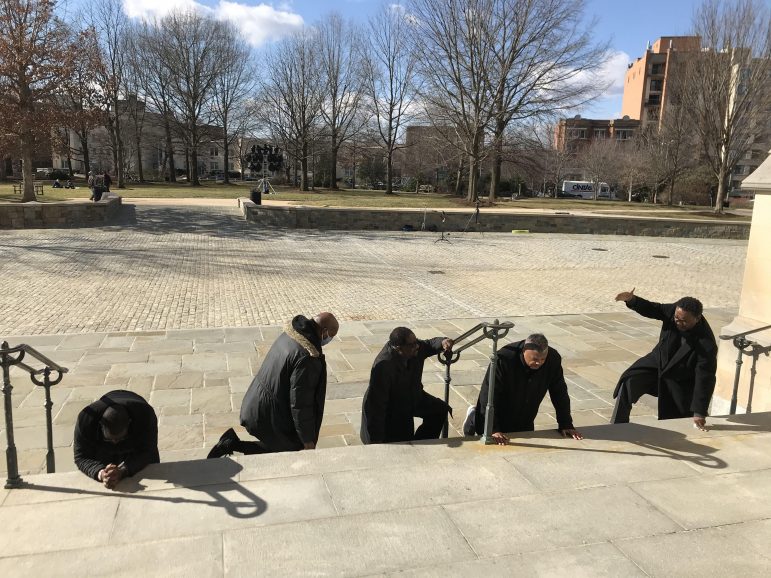 Kneeing on the steps of the cathedral, Hatch prayed for a number of people, including the 400,000 Americans who have died of COVID-19, a milestone reached Tuesday, according to the John Hopkins Coronavirus Resource Center.
He prayed: "That we love our neighbor as we love ourselves … even in the midst of the darkness you give us light."