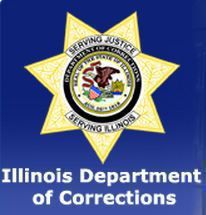 Ruth Perot's nephew has been in prison 30 years, most recently at Danville Correctional Center. The 55-year-old man, who suffers from high blood pressure, has just one year left in his sentence.
But Perot worries her nephew will contract COVID-19 before his release and wind up serving a death sentence. "Danville is a hot spot," Perot said. "Do whatever you can, Rep. Ford, to not only get (him released) but any other prisoner who has a short time to serve."
Perot and the relatives of several other Illinois prisoners urged state Rep. La Shawn Ford to get state officials to grant early release to more inmates, citing the growing numbers of COVID-19 cases. They also complained about a number of other issues, including the canceling of programs that means inmates can't earn good time credit.
Ford, a longtime advocate for improving conditions in the state's 40-plus prisons, held a virtual town hall Monday night to gather information about how the pandemic is affecting Illinois inmates and prison staff.
As of Jan. 11, 9,318 prisoners and 3,625 staff members have tested positive for COVID-19, said Alan Mills, executive director of the Uptown People's Law Clinic.
He said just 363 prisoners and 277 staff members had tested positive as of Aug. 1 and criticized the Illinois Department of Corrections for not starting universal testing when the University of Illinois did months ago.
With all visits canceled since March 2020, it's clear how COVID has been spread, Mills said: by staff, since they're the only ones going in and out of the prisons.
"The way it's getting into prisons is through the front gate," he said. Had Illinois been testing people upon entry, like New Jersey has been doing, "we'd see far fewer cases." That's had deadly consequences, he said, with dozens of inmates dying.
Since Dec. 6, there has been universal testing for prisoners and staff, said IDOC spokeswoman Lindsey Hess. In a statement, prison officials said the department is working closely with the Illinois Department of Public Health, infectious disease consultants and correctional agencies across the country, and IDOC continues to mitigate the spread of COVID-19.
Mills said his immediate concern is how Gov. J. B. Pritzker's administration has prioritized administering the COVID-19 vaccine among the prison system's most vulnerable inmates. He questions why inmates receiving medical care aren't getting vaccinated now at the same time as nursing home residents.
He said it's good state officials have indicated prisoners and staff will be included in the 1b category; that group is expected to start getting vaccinated sometime in March, Mills noted.
Mills said he is "very concerned" about just how many inmates and prison employees will agree to get vaccinated because some correctional officers are anti-vaxxers and will be discouraging prisoners from getting the shots.
"That would be a huge mistake," he said.
Denise Brown, whose fiancé is incarcerated at Dixon Correctional Center, said some correctional officers are refusing to get vaccinated for COVID-19. She's also said inmates aren't getting their medications, and it's a problem that they're always on lockdown.
"What do we do?" Brown said, adding "it's out of their control."
Chrisoula Drivas' loved one contracted COVID before Thanksgiving, and though he has mostly recovered, "that was one of the scariest times."
Drivas said while she understands why there is no visitation, she worries about that lack of physical contact. "Connection to loved ones" is so important for people outside, and the men and women inside, she said.
Drivas wants prison officials to start planning now for how visits will be handled once they resume, including looking at what other states are doing. In the meantime, she's asking for longer video visits. She and other family members attending the virtual town hall reported repeated technical difficulties connecting by video – if there were able to connect at all.
"It's really severely affecting mental health," Drivas said.
Kim Montgomery's son is incarcerated at Centralia Correctional Center, where "thank God, the (COVID-19) numbers are low at the moment." But he has not had any hugs or touches since March 2020, and she's had only one video visit. "This is hard on all the inmates."
Two different judges told her son he should be completing a drug program while in prison, but that's not available at Centralia, she said. Her son has had multiple drug charges, "and it's obvious he needs help."
Montgomery worries about what will happen when he's released. He's not doing drugs while incarcerated, but what will happen when he comes home? she asks. "He's not getting any rehabilitation."
She and others noted that because many programs have been canceled, the inmates aren't able to earn good time credit. "These guys weren't sentenced to a life sentence," Montgomery said. "I don't know what else we can do."