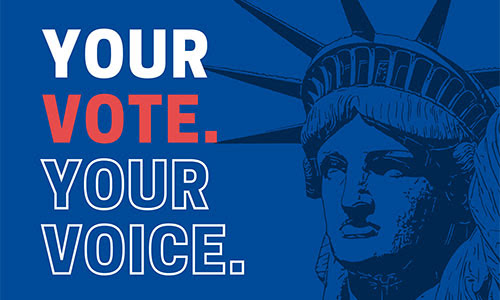 About 130 students from 13 civics classes on the West and Northwest sides are mobilizing people to vote in the Nov. 3rd election.
Students from Michele Clark Magnet High School, Austin College and Career Academy High School and Roosevelt High School are participating in the Working On Knowledge and Equity (WOKE) project, led by VOYCE and Communities United.
The students are targeting the Austin and Albany Park neighborhoods, making calls to potential voters and handing out campaign brochures. The main targets of the initiative are people who are registered to vote but didn't participate in the last presidential election.
In the wake of civil unrest and a pandemic that's hurt Black and Latinx communities the most, it's important to the students to engage the neighborhoods they're from, organizers say.
VOYCE coordinator Maria Degillo hopes the project will uplift the Austin community.
"It's a great opportunity to highlight the amazing work, tenacity and resilience of the community, and how young people at this challenging time are taking back their identity."
This voting effort is different from previous efforts because it's connected to their school curriculum, which is tied to The 1619 Project.
Degillo said it's about connecting young people's lived experiences in the community to what they're learning in the classroom. One question they're seeking to answer is: How does society help shape their identity?
Community organizer Laqueana Reneau works with students at Michele Clark. She's been talking with the teens about what the upcoming election could mean for them.
"They need to understand how to use their power," Reneau said.
By being civically engaged in their community, they also develop skills in communication, public speaking and conflict resolution.
Austin has one of the highest youth populations in the city. Mikala Barrett, community youth organizer at Austin High School, said there is no progress without the youth. People ages 13 to 29 largely make up social justice movements.
"The children are the future. When you silence a young person, you're silencing the future, and the future is everything."
Joining the effort to get voters to the polls, Congressman Danny K. Davis and other elected officials held a get out the vote motorcade through Chicago's West Side on Saturday.
Davis stressed that every vote counts, and he noted there are still some segments of the community that have not taken part in exercising their power, including ex-offenders and young voters.
He said most ex-offenders don't know their rights and are fearful about casting their vote.
Davis said he and others don't want to leave anyone behind, especially those who have the right to vote as allowed by the 1870 Voters Rights Act and enhanced by the Voting Rights Act of 1965, considered by many to be one of the most far-reaching pieces of civil rights legislation in U.S. history.
Groups that participated in Saturday's motorcade include Live Free Chicago, Ashanti House, Black Men United, Concerned Citizens/Mother's House, GEO re-entry Services, National Alliance for Empowerment for the
Formerly Incarcerated (NAEFI), Safer Foundation, The Alliance for Re-entry and Justice, West Side Health Authority, West Section Club and West Side Ministers Coalition.