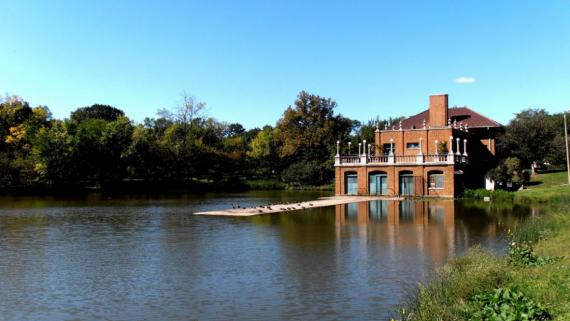 These are some of the historic African American figures Vanessa Stokes hopes officials will consider as some West Side residents push to change the name of Columbus Park.
Stokes, a community organizer and artist, is working alongside Crystal Gardner and Temaka Williams, who started the campaign to rename the 135-acre park that was named a National Historic Landmark in 2003.
After the renaming of Douglass Park, the women reached out to the Chicago Park District about renaming the the Austin park, which features a golf course, a lagoon, running paths, a pool, tennis courts and playing fields.
They've created an online petition, which has nearly 300 signatures – 100 shy of the goal of 400.
After reaching their goal, the three women will take suggestions for a name from those who signed the online petition, then have people vote on their favorite.
Once a name has been chosen, they'll put in a formal request to the Chicago Park District, whose process to rename a park beings with a 45-day notice period where members of the community can oppose or support the initiative. Park officials will review the opposing and supportive comments, then make a proposal to the seven-member Chicago Park District Board of Commissioners, which can approve or deny the request.
Stokes hopes Columbus Park will be renamed early next year.
Commissioner Brandon Johnson, D-Chicago, supports changing the park's name, stating that it's well past due.
Before being elected to the Cook County Board of Commissioners, Johnson was a CPS teacher who taught social studies and reading. He said he made sure to teach his students the true legacy of Christopher Columbus.
"One of the reasons I wanted to become a teacher was to help Black children in particular understand who they are," he said, "Part of that history is outlining and exposing the nature of white supremacy."
Johnson doesn't have someone in mind who he thinks should be honored with the park's name. But he does think the renaming is a step toward restorative justice and will allow the community to begin to heal.
The explorer's name and likeness in public spaces has been questioned in other parts of the country.
Milwaukee renamed its Columbus Park Indigenous People's Park last year. Baltimore passed legislation to rename a Columbus monument for victims of police violence, and Columbus statues were temporarily removed in Chicago.
For some Italian-Americans, the figure is a source of ethnic pride.
Lou Rago opposes renaming Columbus Park. The president of the Italian American Human Relations Foundation of Chicago said the hate surrounding Columbus' legacy is revisionist history.
"Italian Americans happened to select that day [Columbus Day] to celebrate their heritage. It's a day the entire world celebrates because Western European influence was brought to a whole new world," Rago said.
Historian Richard King said he understands the desire for historically marginalized communities to uphold heroes. He notes that white supremacists at one point were hostile toward Italians.
"It makes sense that Italian Americans would want to have heroes that were accepted by established white institutions as ways of celebrating their ethnic heritage and their inclusion in American narratives. In some ways, it's a holdover from that," King said.
The Columbia College history professor supports changing the park's name. He said the shift in thinking about Columbus's legacy as the man who discovered the "new world" to someone Americans need to think about more critically started in the 1960s.
Decolonization movements began to question why public spaces continued to glorify legacies that uphold white supremacy, colonization and segregation, King said. The discovery of The Americas is directly linked to the trans-Atlantic slave trade.
"We might say that the entire African-American experience is shaped by this cornerstone event," King said. "It makes sense that African Americans would say, 'Why in the world do we have a park in a predominantly Black neighborhood that honors somebody who is representative of slavery and genocide?'"