COVID-19 isn't stopping Halloween this year in Austin.
The Youth Educational Mentoring Basketball Association (YEMBA) usually hosts an annual fundraising gala around this time, but it was cancelled with COVID cases on the rise.
Instead, they're hosting a scooter raffle on Facebook Live Saturday at 12:15 p.m. Sponsored by City Scooters, the event will be emceed by NBC 5 anchor Regina Waldroup.
The group's primary goal is to empower middle school and high school boys and girls mentally, physically and spiritually. Through mentoring workshops, students learn about leadership, character building, financial literacy and substance abuse education. All proceeds will go to YEMBA programs.
Another youth-focused organization, BUILD, will have a community Halloween display. Residents can walk around their campus block in the 5100 block of West Harrison to see the lights and decorations.
Some of the themed decorations viewers will see include a zombie/Thriller section, Beetlejuice and a spooky garden. Carmen Scott-Boria, BUILD's director of enrichment services, said the event is an innovative way to have a fun experience while remaining socially distant.
"It's important for young people to celebrate traditions … We have to find new and creative ways to do things in this time."
BUILD had planned on holding a trick-or-treat event, but the group decided to cancel that because of the pandemic.
Something else to look out for on Saturday is the haunted caravan cruising through Oak Park and Austin. A caravan – organized by the Suburban Unity Alliance and Your Passion 1st, will make several stops to drop off pre-packaged treats, starting at 3 p.m.
The first stop will be at Bank of America's parking lot at 7126 W. North Ave., then the van will make several more stops at schools in Oak Park.
Candy will also be given out at Hatch Elementary School at 100 N. Ridgeland Ave.; Whittier Elementary School at 715 N. Harvey Ave.; Beye Elementary School at 230 N Cuyler Ave.; and Oak Park River Forest High School at 201 N Scoville Ave.
The caravan's final Oak Park stops will be at Julian Middle School at 416 S. Ridgeland Ave.; Brooks Middle School at 325 S. Kenilworth Ave.; and Longfellow Elementary School at 715 Highland Ave.
The haunted van also will be stopping at Levin Park at 5458 W. Kinzie Pkwy and the Sankofa Cultural Arts and Business Center at 5820 W. Chicago Ave.
Because it's Halloween weekend, it's only fitting there will be a costume and car-decorating contest as well. Those who have the best costume and most fun car will receive a prize.
"This is a great day for kids to be who they want this year – be that superhero, be that ninja or whatever you want to have fun with," said Christopher Thomas, founder of Your Passion 1st.
Roman Morrow in collaboration with St. Paul Lutheran School will be presenting their annual Halloween celebration from 3 to 6 p.m. in the school parking lot at 846 N. Menard.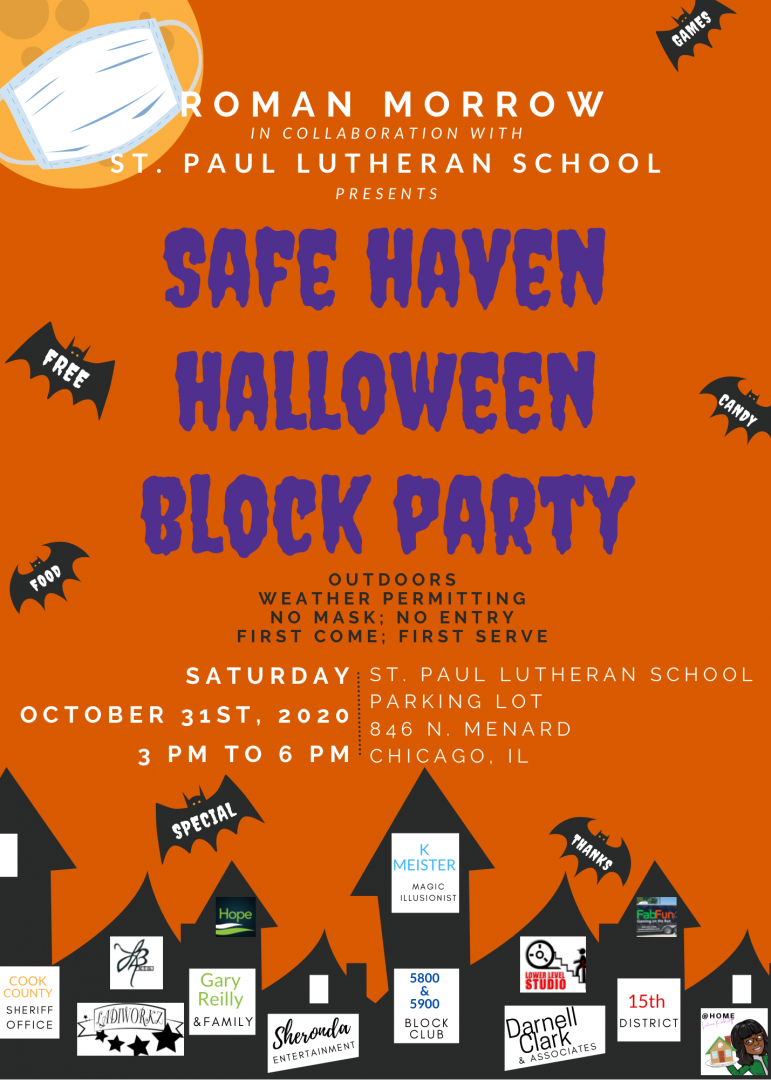 There will also be a harvest celebration at Garfield Park from 11 a.m. to 2 p.m.