When they started, the garden was a literal dump.
Seven years ago, Patricia Hart and her husband, Robert, moved into their house in Austin.
The vacant space across the street, three lots at 645, 649 and 651 N. Latrobe Ave., was being used as a dumping ground for tires and home remodeling waste.
Hart said she got in touch with Chicago Department of Streets and Sanitation and asked: "Could they come in, move the stuff, and they did and people kept dumping."
Four years ago, she discovered Cook County owned the land, so Hart started the paperwork to buy the lots.
After nearly three years that included her being required to survey the land and resolving a dispute with a neighbor who initially refused to remove an encroaching fence, Hart and her husband got ownership of the land and started working to turn it into a garden last year.
Between herself, her husband and her sons, Hart said they cleared the area of the neighbor's fence and some 13 trees. The trees became wood chips for the garden.
After clearing the land, Hart decided she needed a pergola for the garden. She reached out to Human Scale, who she had worked with in Englewood's Veteran Garden, for help in designing and executing the project.
Human Scale was formed in 2017 by four architecture students who were studying at the University of Illinois at Chicago. They realized their architecture could be used as a tool for social change, said Aylen Pacheco, Human Scale's project manager for Hart Peace Community Garden and one of the founding members.
When Human Scale started working on Hart's garden, it quickly grew from the original plan for a small shade structure into a much larger endeavor, Pacheco said.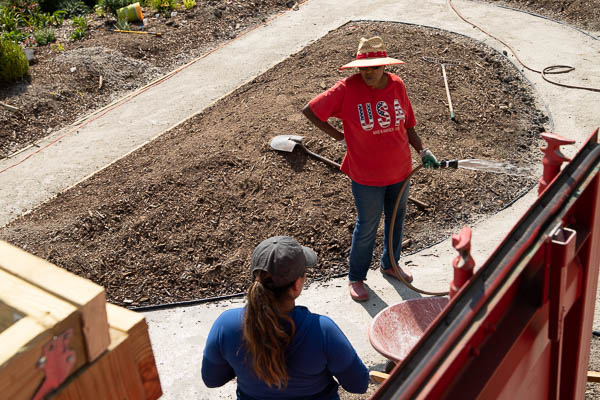 The project was split into two phases.
The first phase, completed this summer, included building paver stone pathways between the garden's storage container as well as ADA-accessible raised planter beds and a 460-square-foot pergola.
The raised, accessible beds and paved pathways were vital to getting people in the community to come and use the garden because so many on the block are seniors who walk with walkers or canes, Hart said.
Phase two, happening next year, will involve turning half the pergola into a greenhouse, and the other half into a workshop where the Harts can host events and classes about gardening and healthy eating, Pacheco said.
Hart said it's important to teach people about healthy eating because, "diabetes and heart disease run so rampant in the Black and brown community."
Hart said she wants to bring something positive to her neighborhood.
"I just want people to eat healthy and exercise so they can live a little bit longer."