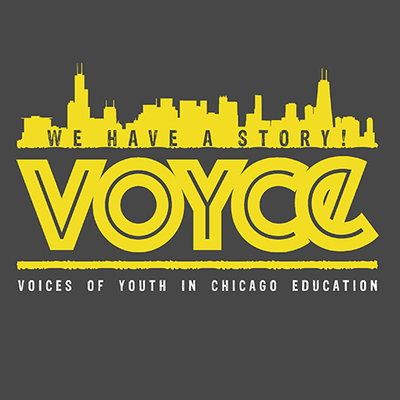 Today, the Chicago Board of Education has the opportunity to take leadership with a bold action to create safe learning environments for Black students across the district.
By ending the funding of police in schools, they can use those dollars to address trauma and other health needs of students by reinvesting them in mental and behavioral health services.
To date, the practice of police in schools has resulted in the unfair and misguided arrests of thousands of Black students over the past nine years. A analysis of recently released CPS data by VOYCE – a youth organizing collaborative for education and racial justice led by students of color from six community organizations – shows:
Arrests are still high: Despite the decrease of school arrests over the years, a total of 18,842 youth, predominantly Black, have been arrested on school grounds during a nine-year period, amounting to a grave civil rights abuse.
A vast majority of arrests involved Black youth: Black students were 35 percent of the student population in school year 2019-20 but 73 percent of arrestees.
Other students weren't targeted: Only 3 percent of arrestees were white, yet white students were 11 percent of the student population overall. Latinx students were 43 percent of the student population but 23 percent of arrestees.
The Board of Education has the opportunity to lead the nation by ending a program that systemically criminalizes and dehumanizes Black lives.
VOYCE – which stands for Voices of Youth in Chicago Education – calls on board members to vote against funding school resource officers for the coming school year and instead use those dollars to invest in support systems that address students' health needs.
"I feel frustrated that the CPS Board of Education is spending more money on police in schools rather than the things we need, like mental and behavioral health for students, especially during COVID when students are suffering," said Derrick MaGee, a rising senior at Austin College and Career Academy.
"There's a ton of youth who don't have food because their parents lost their jobs due to the effects of COVID. Instead of supporting students, CPS and Mayor Lightfoot are investing money on police in schools.
"As a young Black man, I am terrified. Schools are supposed to be a safe haven, but keeping the police in schools doesn't make it feel safer, it makes it even scarier."
As a result of pressure put on by VOYCE and other groups, board members at their Aug. 26th meeting are planning to act on a resolution that directs CPS to create a community process for how schools can potentially phase-out SROs.
However, the board will also be voting on reaffirming its commitment to police in schools by appropriating $16 million to continue for the next school year the SRO program, which disproportionately impacts Black students.
While CPS may claim that SROs are part of their plan to create safe schools, there are existing programs in hundreds of CPS schools without SROs that have accomplished a safe learning environment.
CPS has evidence that we can have safety in schools with investments in restorative justice and mental health.
VOYCE has been urging the Board to invest in Health Equity Action Response Teams (HEARTs), a comprehensive framework to address health, safety, and equitable environments in our schools. 
This past weekend, we were again reminded of the brutality against Black men at the hands of police. For students of color, the mere presence of police in schools is a constant reminder of this abuse.
The statistics and research should be the guide to making the right decision: End the SRO program and invest in equity on mental health and behavioral health as a solution to school safety.