About 50 people gathered in La Follette Park Friday, calling for police to be removed from Chicago Public Schools and for Dwayne Truss, a Chicago Board of Education member who lives in Austin, to vote for removing officers at meeting this week.
Many of those who attended were BIPOC teens who attend West Side schools.
As reported by the Chicago Sun-Times in June, Truss voted to keep the $33 million contract between Chicago Public Schools and the Chicago Police Department. The vote was 4-3.
Protest organizer Destiny Harris said Truss' vote meant he does not represent the West Side.
The protesters want the contract's money reinvested into schools.
"Thirty-three million dollars is a lot of money. Imagine what kids could do with $33 million. Imagine what other faculty members could do with $33 million," said Avery Sims, a student at George Westinghouse College Prep.
Before protesters began marching to Truss' house, Harris played a 12-second recording where Truss can be heard saying of those marching in support of removing school resource officers: "I invite them to come to my house and march in front of my house."
In an interview Sunday, Truss said he had not invited demonstrators to protest in front of his house. He said the group playing only a short excerpt of his remarks "kind of destroys their whole argument about dialogue."
"If you go back to the board meeting, that day, I specifically said, 'You feel free to come to my house, so I can take you on a tour of all the murder spots,'" adding he wanted the protesters to understand the issues and challenges faced by the Austin community.
The group marched Friday from La Follette Park to Truss' home, chanting, "Defund CPD, 33 mil for community" and "No justice, no peace. Abolish police."
Police blocked traffic along the route and at either end of Truss' block. Cyclists who were accompanying the protesters formed a bicycle barricade between police and the demonstrators.
Truss said he had been leaving to go to the store when the protesters arrived.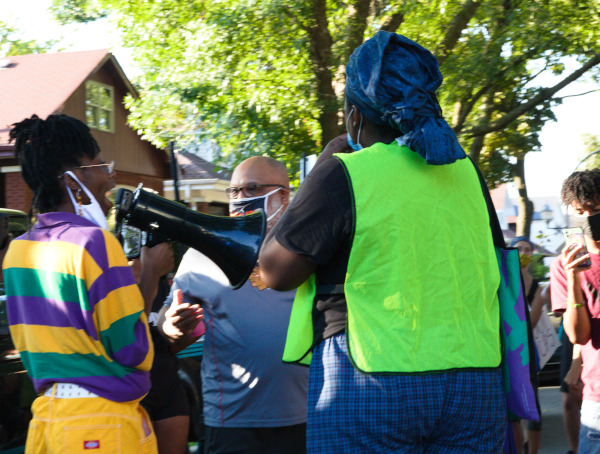 Harris asked Truss, through a megaphone, if he would vote to remove officers from schools when the CPS board is expected to consider the issue on Wednesday. He responded, "Let's have a conversation."
"We already had a conversation; you told us you didn't know the root causes of violence," responded Harris.
Sims said what the students want isn't being taken into consideration.
"[The students] don't vote for people to represent us. They just represent us. They're appointed in that position," he said. "I don't remember asking for a $33 million contract with CPD. I don't think my friends remember asking for a $33 million contract with CPD."
In an interview with AustinTalks during the protest, Truss said the conversation about keeping the SRO program at about 70 Chicago high schools needs to happen with local school councils.
"They want to … drive community empowerment, but now we say let the local school councils (decide). You know, if you look at the bulk, I think about 54 high schools voted to keep their SROs, that's their decision.
"It's up to the local school councils. That's what I voted for, and that's what I believe in."
In recent weeks, two Austin high schools – Frederick Douglass High School and Michele Clark High School – voted unanimously to keep their SRO programs.
Because Austin College and Career Academy did not have a quorum at its LSC meeting where it was scheduled to vote on the issue, Principal Simone Griffin said at the time that she will make a recommendation based on community input to Network 15 Chief Michael Boraz.
On Friday, Griffin declined to comment on whether she had made a recommendation regarding the school's resource officer program. She said the school had been told to direct questions related to the SRO program "to the downtown office."