The Austin Peoples Action Center held a "let our kids live," anti-violence rally on Friday that featured George Floyd's brother Philonise "Po" Floyd, former NBA player Stephen Jackson and several community and elected leaders.
Cook County Board President Toni Preckwinkle said gun homicides this year are up 42% compared to 2019. As of July 22, there have been 459 firearm-related homicides in Cook County, compared to 323 at the same time last year.
Cynthia Williams, founder and president of Austin People's Action Center, asked, "Can you imagine your 3-year-old baby being shot?"
She pointed to Myesha James, the mother of Mekhi James, who was seated behind her.
"Somebody killed this lady's 3-year-old baby. Do you hear me? And we had to bury that baby. We had to provide the resources to bury that baby. She didn't have no insurance. Who would have thought she needed insurance to bury her baby? A 3-year-old!"
Mekhi James was shot to death Austin earlier this summer while strapped in his father's car.
"This event is about us, about the killing of our babies, of our children," Williams said.
"Yeah, we got a lot of other issues around the country. Yeah, we got the George Floyd issue as well. But right now, my concern is the killing of our black babies. So let's stop it!"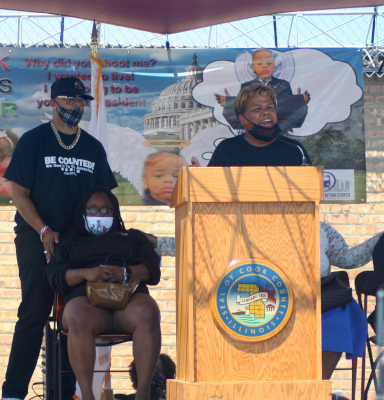 Po Floyd, whose brother was suffocated by a Minnesota police officer in late May, pleaded for an end to the violence in communities and said it was time for people to stick together.
George Floyd's death sparked ongoing national protests against police brutality.
"My brother gave his life for us to come together as one. Please don't let that go unseen. Please don't let him die in vain. The time is now for us to come together as one," he said.
Jackson, the former NBA player, said people didn't even know why they were killing each other. He said African Americans had been put in the situation intentionally.
"They want you to kill each other … so they don't have to do it," he said.
Jackson said the only way to end the violence is for African Americans to stand together, open businesses and for everyone to start spending money in Black communities.
"You won't have to fight over a corner that you don't own cause you all got your own businesses, (you're) all breaking bread together. That's the answer," he said.
As a response to the increased violence, Preckwinkle announced $5 million in funding to Metropolitan Family Services, so the Communities Partnering for Peace program can "extend violence interruption and prevention work" in some of Chicago's hardest hit communities. CP4P is made up of 15 organizations, brought together by Metropolitan Family Services.
The Cook County Justice Advisory Council will be assisting Metropolitan Family Services to "ensure timely monitoring and information-sharing involving the outcomes" of the project, according to a press release.
The money still needs final approval from the Cook Country Board of Commissioners. That approval is expected to happen in coming days.
Preckwinkle said, "When I read a newspaper account of a death on one of our troubled streets, I have to ask did anyone try to stop this?
"We hope that the answer will be Cook County is doing its part," she said.