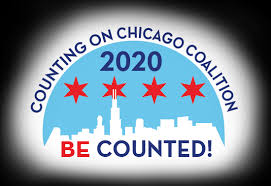 A virtual "all souls count" is being held Sunday, March 29 in an effort to boost participation in the 2020 Census, just days before the April 1st Census Day.
Through a variety of social media platforms, more than 200 churches – including some on the West Side – and over 10,000 members will take part in a unique city-wide census awareness event to share a unifying message for the once-a-decade census.
Church members will complete a digital pledge card to commit to be counted in the census and share the message that all souls matter and have value.
This weekend's campaign is being organized by the Counting on Chicago Coalition (COCC) and is funded by the Illinois Department of Human Services. The coalition – which includes 18 social services agencies – has been tasked with reaching the most marginalized populations such as African Americans, the young and mobile, people with disabilities and ex-offenders.
"This Sunday, we are aiming to energize, empower and mobilize one of the strongest assets we have for civic engagement: the community of churches and other faith-based organizations," Donald Dew, the coalition's regional intermediary and CEO of Habilitative Systems Inc., said in a statement. "Churches are pillars of the community and have been the beacon of hope and inspiration for people throughout history."
Reaching people where they worship is a key census strategy. The goal is to have hundreds of churches join with the Counting on Chicago Coalition to spread the word that responding to the 2020 Census is easy, safe and important for their communities.
"Transforming the community and impacting the world is what faith communities are all about. The Census is about each one of us standing up and proclaiming our rightful place in this world and country. It is our duty to ourselves and our community that we demand to be counted in the Census," Michael Eaddy, pastor of People's Church of the Harvest, said in a statement.
"I will do everything I can to make sure my congregation does everything we can to make sure our people are counted and acknowledged."
In addition to conducting streaming worship services with Census messages, churches will be collecting pledges to be counted and reciting the Census "Litany on Dignity and Justice" in ongoing engagement with its members, Eaddy said.
Services will include guided scripture that speaks directly to the census in Luke 2:1-5: In those days, Caesar Augustus issued a decree that a census should be taken of the entire Roman world. (This was the first census that took place while Quirinius was governor of Syria.) And everyone went to their own town to register. So Joseph also went up from the town of Nazareth in Galilee to Judea, to Bethlehem the town of David, because he belonged to the house and line of David. He went there to register with Mary, who was pledged to be married to him and was expecting a child.
West Side groups that are members of the local Census coalition include:
 Habilitative Systems Inc. (lead agency)
 Austin Childcare Providers Network
 Austin Peoples Action Center
 Chicago Westside Branch NAACP/Bright Leadership Institute
 The Loretto Hospital
 Westside Health Authority
Census statistics are used to determine the number of seats each state holds in the U.S. House of Representatives and how to distribute billions of dollars in federal funds that help support hospitals, schools, libraries, roads, public housing and transportation.
Illinois loses $35 million for every 1% of residents not counted in the U.S. Census.