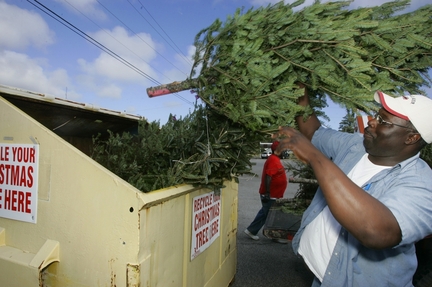 Chicago's annual holiday tree recycling program kicks off Jan. 4 and will last through Jan. 18. Residents will be able to drop off live holiday trees inside tree corrals set up at 25 designated Chicago Park District sites, including Garfield Park, 100 N. Central Park Ave., and Riis Park, 6201 W. Wrightwood Ave.
Trees will be recycled into mulch, which will be available for pick up at six park district locations at no charge to residents beginning Jan. 6.
Residents must remove all ornaments, lights and tinsel from the trees before they are dropped off for recycling. Trees should also be removed from any bags prior to being placed in the tree recycling corrals. The city is unable to recycle wreaths or garlands.
The holiday tree recycling program helps reduce waste in landfills and provides a sustainable source of materials used by the Chicago Department of Streets and Sanitation, Chicago Park District and the Metropolitan Water Reclamation District.
Since the program started in 1990, more than 285,000 trees have been mulched; that includes more than 17,000 trees last year, diverting an estimated 620,000 pounds from landfills.
For more information or to find a Chicago Park District site that offers free tree recycling, call 311 or visit recyclebycity.com/Chicago.