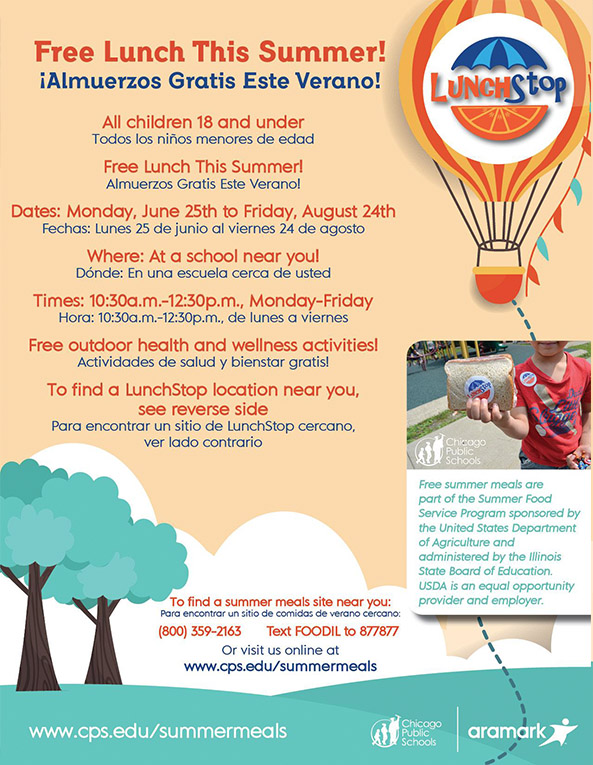 The
CPS LunchStop summer meal program
began providing
free
lunch
Monday to children ages 1-18 at nearly 100 outdoor community sites throughout Chicago, including several in Austin.
LunchStop locations operate from 10:30 a.m. to 12:30 p.m. Monday through Friday through Friday, Aug. 23. Children do not need to be CPS students in order to receive a
free
lunch
.
"It's critical that Chicago's children have access to meals during the summer, and we are proud to continue providing access to thousands of meals through the annual LunchStop program at schools throughout the city," CPS CEO Dr. Janice K. Jackson said in a statement.CPS'
free
summer meals are funded through the Summer Food Service Program sponsored by the
U.S. Department of Agriculture
and administered by the
Illinois State Board of Education
.
To find a location, go to
cps.edu/summermealsmap
, call the Illinois Hunger Hotline at (800) 359-2163 or text FOODIL to 877877.
Here are the Austin locations:
Brunson Elementary School, 932 N. Central Ave.
DePriest Elementary School, 139 S. Parkside Ave.
Hay Elementary School, 1018 N. Laramie Ave.
Howe Elementary School, 720 N. Lorel Ave.
Spencer Elementary School, 214 N. Lavergne Ave.
Young Elementary School, 1434 N. Parkside Ave.
In addition to LunchStop locations, free meals (breakfast and lunch) are also available this summer at hundreds of locations throughout Chicago, some starting July 1. The Austin sites include:
Clark Elementary School, 1045 S. Monitor Ave.
Ellington Elementary School, 224 N. Central Ave.
Leland Elementary School, 512 S. Lavergne Ave., and Leland Annex, 5044 W. Harrison
McNair Elementary School, 4820 W. Walton St.
Michele Clark High School, 5101 W. Harrison St.
Plato, 5545 W. Harrison St.
VOISE High School, 231 N. Pine Ave.
YCCS West Side – Holistic, 4909 W. Division St.