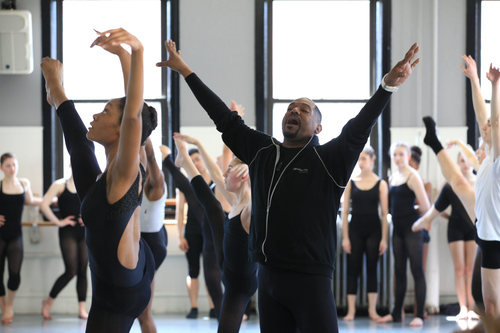 Ever since Randy Duncan was 5, he's been infatuated with the art form of dance.  He remembers watching West Side Story as a teen and being impressed with the movements; he knew then that dance was what he wanted to do for the rest of his life. 
Growing up in Austin, Duncan's passion for his craft is what pushed him to the highest level. He became a professional dancer by the age of 15, and his earliest memories of instruction stem from teaching his fellow Austin High School cheerleaders how to tumble.
"I can remember that first time when I took off during the basketball game, and the cheerleaders made a path for me to do a tumbling pass, and the crowd went absolutely crazy," said Duncan, now 60. "That was the first time I ever thought about becoming a teacher."
His father and brothers were heavily involved in sports, mainly basketball and baseball. 
"I didn't have that kind of interest," Duncan said jokingly. "My interest was more in the pretty things and the fine arts. I was more interested in playing with Barbie's hair, twirling a baton, fashion shows, more so than playing baseball or basketball."
Much of his inspiration also stems from his manager, Harriet Ross, Chicago dance icon and former general manager of the Joffrey Ballet. He still has daily morning conversations with her.

"She was my teacher, my mentor and a major influence in my life," Duncan said. 
After graduating from Austin High School, Duncan participated in several renowned dance companies, including the Joffrey; Giordano Dance Chicago; River North Chicago Dance; Bat-Dor Dance Co. of Israel; BalletMet of Columbus, Ohio; and Tennessee Children's Dance Ensemble.

Duncan began teaching at The Chicago Academy for the Arts in 1994 and has been a staple of the dance program ever since. Every day he walks into the classroom he is inspired by his many talented and passionate students.
"They all have a passion for learning and doing what they love," Duncan said.  "It's inspiring to see these young minds and to see their artistic journey take place."
Jason Patera, head of school at the Chicago Academy for the Arts, said Duncan is not only a world-class teacher but also a choreographer. 
"Randy is able to create work that really highlights … the strength of individual dancers, the dance ensemble, and he has a unique ability to tell a story through dance that is both technically sophisticated and emotionally compelling," Patera said. 
"He's in a place where he can work with great students who are eager to be mentored by somebody who has the credentials that he has," Patera said.  "He's in a place that understands his level of expertise, his level of credibility and that gives him the space to be the expert."
Duncan has won several prestigious awards, including the faculty legacy award and Chicago dance masters award.

"That award meant a great deal to me because it's an award that recognized teachers as masters of their craft. That's when I knew that I had made it," he said. 
Duncan said he enjoys seeing students who have gone on to perform in the professional world; a number of his students have performed in The Lion King, Wicked and Hamilton.
He has returned to Austin throughout his professional career.
"Someone in Austin once asked me, 'How could someone like you come from a place like this?' It's all about giving the message of, 'You can do this too, it's hard work, and you need to have a passion for following your dream.'"