SisterHouse held an open house last weekend at its new location in Oak Park.
The Austin organization – which provides a temporary home to women recovering from substance abuse – moved to Oak Park in November. SisterHouse has served the Austin community for 35 years, helping more than 2,500 women.
"Oak Park is a safe community, it is much more strict, there is more police visibility, and because of that, the ladies' demeanor is more positive, they are happier," said Lisa M. Steward-Baugh, executive director of SisterHouse.
With drug dealers right outside their former location in Austin, residents had to confront them every time they stepped out of the house, Steward-Baugh said.
"Even though there are drugs and alcohol in the surrounding areas here, it's not at our front door," she said.
Another issue with the Austin location: it was in poor condition, and SisterHouse couldn't afford to pay for the repairs.
"It gets depressing when your surroundings get worse and worse," said Judy Garber, treasurer at SisterHouse.
Mary Catherine Wygonik, a former SisterHouse board member, helped find the new location at St. Catherine of Siena-St. Lucy Parish, 25 W. Washington Blvd. It took almost three years to secure the space for SisterHouse.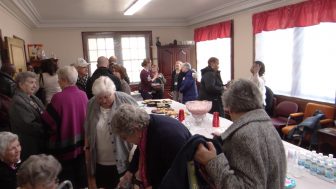 The new location is safer for women because the transportation options are better, giving the residents more options for work.
"We have a lot of women who are employed during the night. It will be so much safer to travel in the night here," Wygonik said.
The new location can house 15 residents with each having their own room. Divided into three floors, the center has a library, a "sunshine room" where residents can watch television and relax, along with a chapel where the residents meditate in the mornings.
Diane Hagins, 46, who've lived at SisterHouse almost eight months, moved along with the center to its new location.
"The meditation room is a lot nicer here, and I feel closer to God here in this room than I did in the other place," Hagins said.
"The environment itself makes you feel a lot more at peace. The other place was a little rundown, and this is so much better. It is more comforting and welcoming," she said.
Rochelle Burnett, 43, who has lived at SisterHouse for about a month, said the structured environment has helped keep her from relapsing.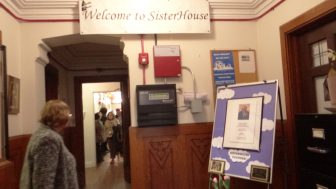 "I have been experiencing with street drugs since the '80s, and I relapsed over the period of time because I never took any steps. But it's better late than never," Burnett said.
Betty Clay, 53, who has been at SisterHouse for three months, said she's running away from hard situations anymore.
And Tiffany Nichols, 40, who has at SisterHouse two months, says it's helped her get her life back and taught her to love again.
"When I first got here I had lost everything. I lost my job and my house. … I went to treatment (and) the counselor suggested I come to SisterHouse," Nichols said. "It's the best thing that ever happened to me. I got my life back. … It helped me lay a foundation."
SisterHouse has added extra-curricular activities since moving into the new space, including classes on self-defense, life skills and Bible study.
"These activities keep the ladies constantly busy," said Margaret Hill, SisterHouse's program director.
Hill interviews each resident before they move in. To qualify for SisterHouse, a woman has to be 28 days into sobriety; they're usually referred by counselors or parole officers. Women can stay up to 18 months.
Demand has gone up for the program, something they hope will continue.
"It is the first time at SisterHouse that we have a waiting list," Steward-Baugh said. "And hopefully, with time, we are able to help more."