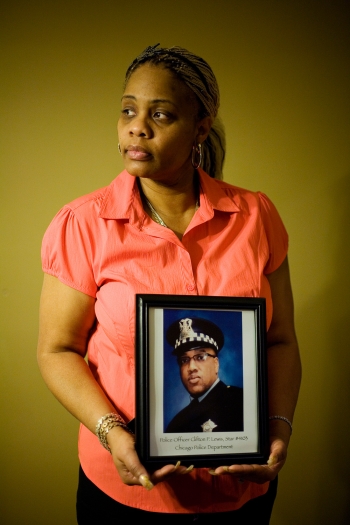 The annual Clifton P. Lewis Foundation Back to School Rally is more than an opportunity for students to get school supplies, it's a way for Tamara Tucker to remember the life of her fiance, 15th District Officer Clifton Lewis, who died in a 2011 off-duty shooting.
Officer Lewis, an eight-year CPD veteran, was shot and killed during a robbery at an Austin convenient story where Lewis worked part-time as a security guard. Lewis had proposed to Tucker just days before his death; he also left behind his mother and then-11-year-old daughter.
"You never ever get over it, but a good part about it is the memories," Tucker said. "I have great memories of Cliff and I together from the time we met until the time I had to say goodbye, and that's another way to give back. I give back in memory of."
In its third year, Tucker's book drive distributed dozens of books bags full of books, pencils and folders earlier this month at the West Chicago Avenue Branch library.
"I didn't think it would get as big as it is," Tucker said. "It's not accolades for me, I don't want recognition. I do it because it's a passion, and I wanted it to be in remembrance of the officer who patrolled the Austin area who loved his job. This book drive here is a remembrance of that gentle giant that he was, who always wanted to give back to the community."
Tucker said she organizes the drive after schools has already started because she did not want to take away from other larger school drives – and so her event can replenish supplies students still need or may have lost.
State Rep. La Shawn Ford attended last weekend's event to show his support and praised the program for bringing community attention to libraries.
"The public library is something that is almost becoming like a dinosaur, so anytime there are events that invite families into the library is just awesome," Ford said.
West Chicago Avenue branch manager Shirley Wallace said the back-to-school drive is a way to bring community members into the library who may have not come otherwise. She added that hosting the library's open house on the same day of the drive also lets people become familiar with the library's different programs and resources.
"It's a good way to bring our community together to let them know that the library is in this community," Wallace said. "We want to welcome people, we want to give people things, and we want them to come back."
Austin resident LaTanya Compton said events like the school drive are ways for children to learn that their communities care about them and also teaches them the benefits of generosity.
"This event is something that is genuine," Compton said. "It's something that comes from the heart, and I think a lot of kids going home with brand new bags are going to recognize and learn from that."
Tucker said she will continue to organize the drive in future years and is proud to be able to make community contributions in Lewis' name, even though he was never one for the spotlight.
"If he was alive today he would have appreciated me giving back to the community, the back to school efforts and giving away the book bags," Tucker said. "But to put him out there like that, he just wouldn't have allowed it."