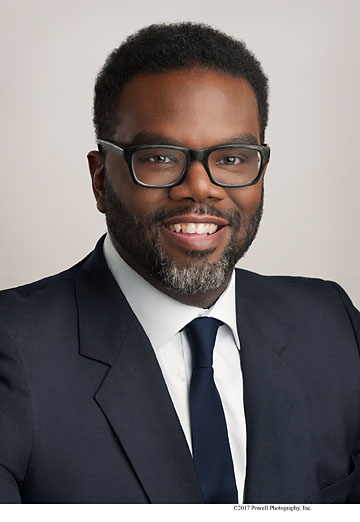 In one of the most hotly contested local races, union organizer Brandon Johnson appeared to be on the verge of beating Cook County Board Commissioner Richard Boykin.
With 224 of 232 precincts reporting early Wednesday morning, Johnson had received 50.4 percent of the vote (23,713 votes) to Boykin's 49.6 percent (23,370 votes).
Neither candidate would talk to AustinTalks Tuesday night; we hope to have their comments about the unusually close primary race sometime today.
No Republican sought the 1st District board nomination, though one could still get on this fall's general election ballot. That person would face an uphill battle to defeat the Democrat victor, as it's a heavily Democratic district.
In the 7th congressional District, longtime U.S. Rep. Danny Davis easily defeated challenger Anthony Clark, a teacher at Oak Park River Forest High School who was mounting his first run for elected office.
With 584 out of 597 precincts reporting, Davis had won 73.8 percent of the vote (77,666 votes) to Clark's 26.2 percent (27,508 votes).
Davis will face Republican Craig Cameron, who defeated Jeffrey Leef 56.6 percent (3,535 votes) to 43.4 percent (2,710 votes).
Results for these and other races can be viewed at the Chicago Tribune's election site, as well as here at the Cook County clerk's web site.