When residents of Cook County's 1st District begin voting in the March primary later this month, they'll have a choice between two reform-minded candidates, albeit with different approaches to improving the quality of life of their West Side constituents.
Commissioner Richard Boykin, an attorney in his first term representing Austin, Garfield Park and other nearby suburbs, will face a challenger in Brandon Johnson, an organizer for the Chicago Teachers Union. The two are expected to appear at 11 a.m. Saturday, Feb. 3 at Chicago West Side NAACP's candidates forum, to be held at Sankofa, 5828 W. Chicago. Ave.
Both men say their campaigns focus on bringing jobs to the area, take action to combat gun violence and want to reform the county's approach to taxation.
As in many a Democratic primary playing out across the Chicago area and the nation, the race is pitting incumbent Boykin, a business-minded centrist, against a challenger who is calling for a more progressive agenda.
"My opponent is someone who has aligned himself with deeply held conservative values," Johnson said of Boykin. "His approach to our challenges is to cut services, cut jobs. These are Republican ideas."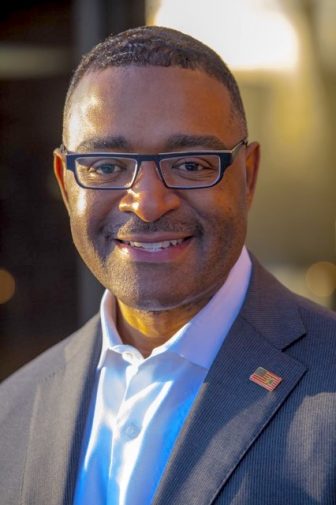 Boykin says voters will have to look no further than his record to see that he is both a progressive and a realist. A vocal opponent of the county's failed "regressive" sweetened beverage tax, Boykin believes commissioners need to focus on cutting waste to pay for county services and that high taxes are behind an exodus of residents and businesses in his district.
Boykin wants to freeze property taxes in Cook County, while making his own district more business friendly, which could include offering to exempt businesses who move into the 1st District and hire residents from the community from paying property taxes for up to 10 years. By attracting business and residents back to the county, he believes he can grow the tax base in the long run.
"There is no one who has been more actively engaged in getting people jobs in my community," Boykin said.
Johnson casts himself as an advocate for working people and believes the county needs to increase taxes on the "winners" of the current economy, namely corporations that have recently seen a massive tax cut at the federal level.
"I think we need to have a real commitment to getting progressive revenue," Johnson said.
Johnson wants to see the county implement a "head tax" on corporations with more than 50 employees, while reducing or eliminating taxes on employees hired from certain "in need" neighborhoods. Chicago Mayor Rahm Emanuel phased out a similar tax on businesses in Chicago in 2014, though aldermen have proposed bringing back the tax as recently as last year.
"It sounds like a [Chicago Teachers Union] talking point," Boykin said in response, adding that it revealed Johnson's "fundamental misunderstanding of county government."
"Businesses have already been taxed into oblivion," Boykin said. "I think its an unwise idea. It didn't work in the city of Chicago."
Boykin said he favors eliminating vacant and unnecessary positions in the county. A reduction in the number of inmates and buildings at the Cook County Jail, for instance, should correspond with further cuts to the sheriff's office's staff.
He has also recently suggested going after unpaid medical debt owed to the county. According to Boykin, the Cook County hospital system is conservatively owed more than $90 million in unpaid bills. Boykin wants to bid the collection of that debt out to a private firm to patch budget holes.
According to Boykin, that debt is mainly owed by "insurance companies and people who can pay," and won't target low-income residents. By recouping money already owed, the county can avoid cuts to services, which he says he wants to protect.
Boykin also sees opportunities to raise money for the county's forest preserves by selling naming rights, allowing communications companies to build cell towers inside the preserves and requiring users of the districts to pay for parking.
"There's a lot of waste in the budget," he said. "If I'm not here, there's no one to ask these questions."
The issue of gun violence is another area both men agree requires strong leadership on the county board.
In December, Boykin suggested bringing United Nations peacekeepers into Chicago neighborhoods. He has also released a seven-point plan to attack gun violence, which includes proposals for the county to partner with nonprofit and faith-based organizations to provide parenting workshops and to charge shooters who fire into crowds or attack children with domestic terrorism.
The county is spending billions on gun violence, from paying to stabilize hospitalized victims to prosecuting cases and paying defense attorneys, he says. "It's an issue I want to hit the ground running on."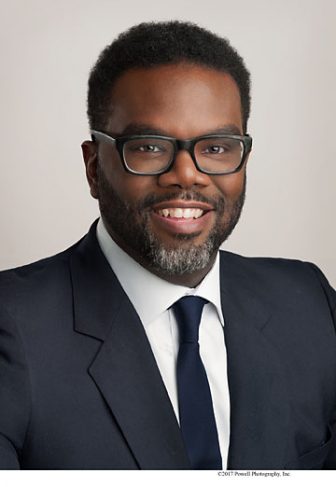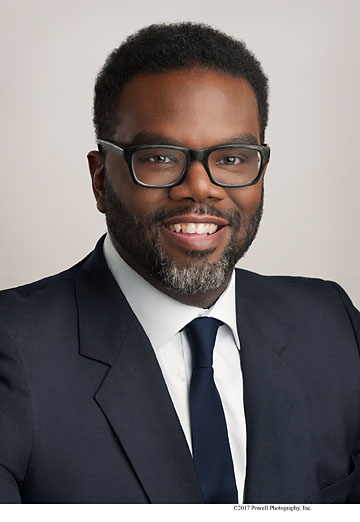 Johnson, who lives in the Austin neighborhood, says gun violence was one of the primary issues that pushed him to run for the seat.
On the night before school began last year, his family was at home when they heard the distinct sound of gunfire on their block. Johnson said his children were crawling on the floor and that he understood the terror of going into their bedrooms, praying a stray bullet had not found its way into their home.
Boykin's solution to gun violence is to criminalize communities, Johnson said. A better solution is to increase funding for mental health services, and to bring jobs and training programs into neighborhoods plagued by violence. Johnson said more progressive taxation would provide funding for an increase in such services, but he did not provide specifics.
Boykin, who lives in Oak Park, "has lost his focus" and is more interested in furthering his political career than addressing "the root causes of violence," Johnson said.
Boykin, who served as chief of staff to Congressman Danny Davis before being elected,  brushed off the attacks saying that, unlike Johnson, he has a record that shows results.
"Campaigns are about ideas, not about insults," Boykin said. "I think voters in the 1st District are smart enough to see through that."
Early voting starts Feb. 21 in downtown Chicago and four suburban locations, and in most suburbs on March 5.