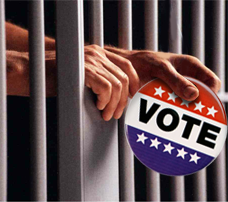 State Rep. La Shawn K. Ford and several advocacy groups announced a voter registration drive for ex-offenders and called on candidates running for governor to make ex-offenders' return to society a priority if elected.
"In Illinois, it is so very important that people with felonies recognize that when they're out of prison, they have a right to vote," said Ford, noting that in other states – including the South – people with felonies don't have that right.
There are 4.1 million people in Illinois with some criminal history that have a right to vote, he noted.
"This is a large voting bloc that can elect the next governor of Illinois. Family members of ex-offenders and ex-offenders themselves are strong power bases for any candidate running to be elected to office."
Ford was joined at a press conference Thursday by the Westside Health Authority, Safer Foundation, A Safe Haven Foundation, NAEFI Keeping It Real Project, NLEN National Black Agenda Consortium, Roy Flowers (Chair of 8th District Reentry Committee), Raymond Richard, Womens Prison Ministry, Inmates for Change and Chicago Votes.
Quiwana Bell, chief operating officer of Westside Health Authority, which runs a re-entry center in Austin, said, "Those 4 million people need to know they can vote, and they need to vote."
"A lot of brothers and sisters that's coming home from prison in Illinois don't even know that they have the right to vote," said Clifton "Booney" McFowler, an ex-offender who works as a case manager with BUILD Chicago, an outreach group that specializes in gang intervention, prevention and youth programs for at-risk teens.
Compared with many states, Illinois has a more lenient view toward ex-felons being able to get their voting rights back after they have served a prison sentence. While anyone incarcerated because of a felony cannot vote, voting rights are instantly reinstated upon release from the prison system. In addition, anyone who is on probation or parole is able to vote.
"In this last presidential election, the president won the White House with 62 million votes," Ford said. "There are over 100 million people across America with some type of criminal record or background. The re-entry community could elect the next president of the United States."
Ford also said there needs to be a process to eventually clear the criminal records of even violent ex-cons, saying, "We have to say this to people who are returning from prison: If you have served your time and if you are reformed, we will clean your record, and you have a right to start all over.
"If we want to end the street violence in Chicago and across Illinois, we must open the gates to opportunities for those with criminal records."
Forty-eight percent of ex-offenders in Illinois end up back in prison within three years of release, Ford said. "Unfortunately, when ex-offenders have served their time and are released back into the community, the system does not give them a fair shake."
A 2012 survey by the Society for Human Resource Management found that 86 percent of employers do criminal background checks on at least some job candidates, with the majority – 69 percent – checking all applicants.
"So many people who have paid their debt to society still struggle to find ways to clear their names – struggling for total freedom and the opportunities they deserve," Ford said.
"It's not a surprise that a high level of violence happens in communities where the most people are released from Illinois' state prisons. We can no longer shut American citizens out of the work force, education and housing in Illinois.
"Candidates running for governor of Illinois should see re-entry issues and reforms of our corrections system as priorities if they are asking for our votes," the Democrat lawmaker said.