Elijah Sims would have turned 18 last Thursday – if he were still alive.
"He always had a smile on his face," said Trinity Mearday, 18, who met Sims when they became classmates at Oak Park and River Forest High School about four years ago.
"He always was the laughter during the silence," said Mearday, who gathered at Scoville Park in Oak Park last Thursday night with her friend Latasha Stapleton, another classmate of Sims'.
They joined about 70 others who marked what would have been Sims' 18th birthday.
Someone shot him from behind in the 5500 block of West Quincy Street Aug. 28, 2016, as he headed home on his bike. He was pronounced dead the next morning at Stroger Hospital, a day before his birthday.
No arrests have been made. The only evidence is Sims' bike, which had been kept by the police, said Sims' mother, Sharita Galloway.
"His life was taken so young," Galloway said during Thursday's celebration held on the day he would have officially entered adulthood.
"This is the first year he would have been turning 18, and there's still no justice," she said,
She and others are still handing out flyers offering a reward to anyone who offers information that leads to an arrest.
Her son's death has been devastating to his family. But last week's celebration was for people to share good memories about Sims and spread love in the community, Galloway said.
"Elijah was a very caring young man," she said. "He always cared about other people and their feelings."
"He was a singer at OPRF; He worked at Pete's Fresh Market in Oak Park. He wanted to be a nurse like me when he grew up," she said.
He was gifted in rap and music, and starting to go to the studio before he died, she added.
"That's why we made the shirts," Galloway said, as she pointed at the yellow shirt that she and many others wore that read "your voice will be heard."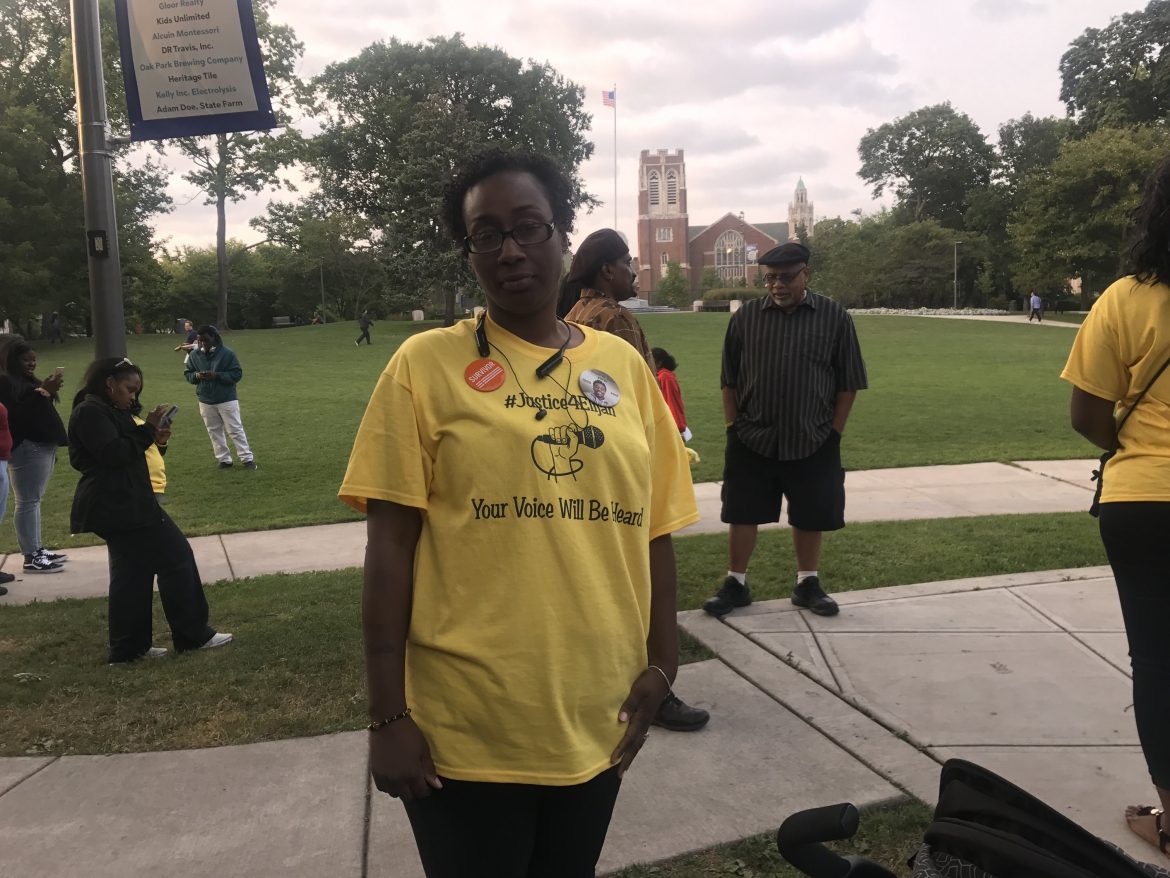 It took a long time for the family to get used to life without Sims.
"I felt down," said older brother Isaiah Sims, 21. "But you know, I'm getting used to it. I'm trying to keep a low profile and stay positive."
"I'd like to think it didn't happen and things just go normal," he said. "But sometimes it doesn't feel like that. You just can't."
Galloway's uncle, Fred Yancey, 68, was also there to remember his nephew.
"He was a great kid," Yancey said, adding the person who committed the crime should be caught and prosecuted.
"It's an indescribable feeling," he said. "This shouldn't have happened."
Anthony Clark, one of Sims' high school teachers, helped Galloway set up the stage and speakers for last week's event.
Clark met Galloway after the tragedy happened. She's thankful for the support he has given her family and for others who've helped her through the hard times.
"Elijah was an extremely loving young man who was popular and well-liked," Clark said. "He was just somebody who lit up the room when he arrived." 
He had so many dreams and aspirations, Clark said, but "it's just snuffed out like that."
Sims is irreplaceable and truly missed, and the loss of his life is not in vain, said Clark, who is running for the 7th District seat Congress.
"It's important for us to review violence and pain as we come together as a community," he said, adding the celebration of life is to rewrite the narratives – to "change it from somber and sadness to love and hope."
"He's empowering us to make a difference," he said. "So this tragedy does not happen to anyone else."
The violence has to stop, families and friends say.
"A good person who's just hanging out didn't deserve that," said Mearday, Sims' high school classmate. "It's something that's gonna take all of us to change. It's not just in Austin. It's a Chicago problem. It's an Illinois problem."
State Rep. Camille Lilly said the tragedy brought people together with common goals.
"We want the friends, families and the community to put the guns down," she said. "It brings us together in an unfortunate way like this, but we are working together to correct the wrong in our society, in our neighborhood."
Pastor Tom Walsh of St. Martin De Porres Church led a prayer before the celebration began.
"We are here to celebrate the good young man's life, who's a friend, a brother and a son and someone who still lives a part of our lives, in the successes as well as challenges that we face," he said.
"And we will still tell those stories, like the stories we shared with Elijah and keep them going each and every day."