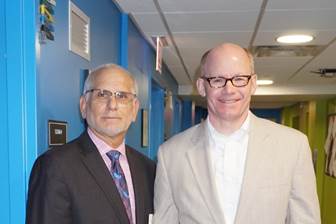 PCC Community Wellness Center (PCC) celebrated Monday the renovation of its walk-in wellness center at West Suburban Medical Center, a community health center that offers non-urgent care for illnesses and injuries that are not true emergencies.
The renovation was made possible by a $1 million federal grant from the U.S. Department of Health & Human Services, Health Resources and Services Administration (HRSA).
Robert J. Urso, PCC's president and CEO, welcomed guests to the Oak Park facility, and state Sen. Don Harmon (D-Oak Park) gave remarks.
Supporters, patients and staff toured the health center, which also houses a sports medicine clinic, ultrasound clinic and chemical dependency clinic for the treatment of opioid use disorders.
"We are appreciative of the space that West Suburban Medical Center is allowing us to use to create this environment," Urso said. "At the walk-in, our patients can be seen immediately by a provider as an alternative to the emergency room."
During Monday's event, PCC also celebrated its 25th anniversary. Comprised of 11 health centers – including one in Austin – PCC is a Federally Qualified Health Center that provides quality, affordable and accessible primary health care and support services for medically underserved communities.
As a safety net provider, PCC is committed to extending to patients increased access for medical attention for non-emergent care without an appointment (i.e. bronchitis, migraine, sore throat). Over the past year, PCC's providers completed over 22,000 patient visits at the clinic.
"We are pleased to continue to offer the same quality PCC medical care to our patients, now in such beautiful and professional surroundings," said Dr. Katrina Cordero, who serves as the clinic's medical director.