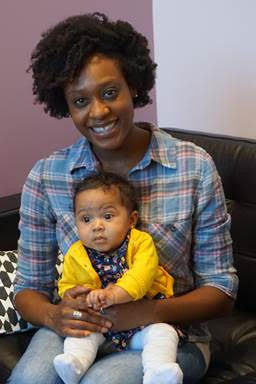 The Birth Center at PCC and New Moms tonight will co-host "women's night out," a free community event where women can enjoy an evening of fellowship.
Women's night out events foster community, model self-care techniques, and introduce health concepts such as nutrition or physical activity for women and mothers.
This month's event will be held Thursday, June 29 from 5 to 7 p.m. at New Moms at 5317 W. Chicago Ave.
Catherine McNeil, author of A Mother's Love: 31 Days of Affirmations for Single Mothers, will host a round table discussion to inspire mothers.
"Pregnancy and motherhood can be isolating because we don't have places to gather and speak about our experiences," said Mary Sommers, Birth Center director of clinical operations.
"This event invites us to listen to the words of Catherine McNeil as she speaks not only of her experiences of motherhood through spoken word, but speaks to our way of relating and knowing truths within the unique experience of motherhood."
All women's night out events are baby-friendly. While not required, an RSVP is appreciated. Dinner and childcare will be provided.
Established by PCC Community Wellness Center in 2014, the Birth Center at PCC remains the only freestanding birth center in Chicagoland. It is a home-like facility separate from the hospital where women can give birth with minimal medical intervention.
PCC partners with New Moms, an organization located on Chicago's West Side and the near west suburbs. New Moms offers holistic services surrounding young mothers and their children with all the supports they need to break out of the generational cycle of poverty, homelessness and dependence.
For more more information, to RSVP for tonight's event or to schedule a tour of the birth center, please contact Mary Sommers at (708) 317-3035  or email birthcenter@pccwellness.org.
###
PCC Community Wellness Center is a Federally Qualified Health Center with the mission of improving health outcomes for the medically underserved community through the provision of quality, affordable, and accessible primary health care and support services. Anchored with family medicine, PCC is committed to serving the needs of all people in all stages of life.